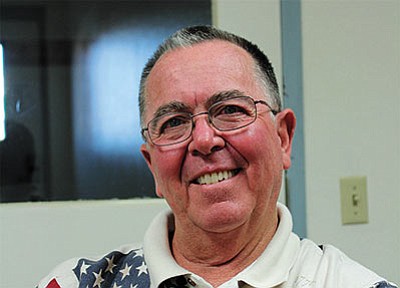 Originally Published: February 26, 2016 6:02 a.m.
KINGMAN - Every candidate for Mohave County sheriff cites low morale as one of the most significant concerns plaguing the department, and all of them agree low pay and retention is key to the problem.
Most also say poor leadership plays a role in deputies' dismal collective attitude, but Rodney Head isn't buying it.
Head, whom Sheriff Jim McCabe appointed as his chief deputy last July following the retirement of former chief deputy Greg Smith, didn't spend his 37-plus years in law enforcement at the MCSO. The vast majority of his career, 29 years, was at the Bullhead City Police Department, including the last 13 years as its chief.
He grew up in Kingman and spent his first eight years in law enforcement at the MCSO, where he attained the rank of sergeant, before he became a founding member of the Bullhead City Police Department and eventually came to lead that organization for nearly a decade and a half.
"That was a great job," he said. "I really loved being police chief in Bullhead City and I love living in Bullhead City."
And while Head's second stint with the MSCO encompasses only the past seven months, he was well acquainted with former five-term Sheriff Tom Sheahan and McCabe, along with veteran members of the rank and file.
When McCabe tapped him to fill the role as the second in command at the MCSO, Head said he was confident he was joining a solid agency.
"Having been chief in Bullhead City and knowing Sheahan and McCabe and working closely with them, I think I knew what to expect."
He said both men worked to ensure the department had modern equipment and a very dedicated staff.
"The leadership criticism isn't accurate," he said. "The problem that exists must key on the fact there is not enough staff. It's from the bottom up to administration, but especially in the deputy sheriff ranks."
The Mohave County Board of Supervisors authorizes 94 sworn officer positions at the sheriff's office, a number he said is "woefully low." And not all of those positions are filled. Head said Yavapai County, with a population of roughly 216,000 according to 2015 census data, has 130 sworn deputies in a county that encompasses slightly more than 8,000 square miles. Mohave County, with about 203,000 residents, has more than 40 fewer deputies covering a county encompassing over 13,400 square miles.
"The size of our patrol districts is a lot of our issue," said Head. "And it doesn't make it better that not all of the positions are filled. We're nowhere near full."
There are 13 vacant deputy positions. There is help on the way with eight in training and six more attending the law enforcement academy, but those eight rookies must ride with a field training officer and the six in the academy also will spend their first year on the job with a training officer, meaning 26 won't be working alone.
The already low number of approved positions, the vacancies and a workforce that has witnessed a 117 percent turnover rate over the past eight years has resulted in less-than-acceptable response times, said Head.
The key problem, however, regards salaries, said Head, who spent more than half of his career managing a government budget.
"It's compression and low pay," said Head. "In talking with deputies that have left, and those in command staff, the issue of pay is a big deal. When you talk about compression, I'm not sure how many people realize the affect."
Compression comes into play when veteran deputies make little more than rookies due to a lack of pay increases over the years.
To put compression into perspective, Head said newly minted deputies in field training make 50 cents less an hour than deputies who have been on the job for up to eight years. In some cases, the trainer makes about $6 a day more than the trainee. It doesn't get much better for the old hands, either.
"Those with between eight and 16 years of service might make a buck to a buck-forty-five more. Deputies with 16 years of service down are so compressed there's no difference in pay between a veteran and a recruit," said Head, an FBI National Academy graduate who has a bachelor of arts degree in management. "Obviously, this grates on people. They don't expect to get rich in this job, but they expect to at least get treated fairly."
Months ago, McCabe said the department would lobby the Mohave County Board of Supervisors to add a quarter-cent to the county sales tax. Head would support such a measure, no matter how unlikely it is supervisors would agree, but only if the money was used to raise salaries and deal with the compression issue.
"I would like to work with the supervisors (and relevant department heads) to alleviate the strain of the pay issue," he said. The MCSO is paid less than are officers in all other regional departments.
The problems don't end with low pay. The Mohave County jail and its average daily inmate census of about 500 takes slightly more than half of the sheriff's $22 million annual budget. "It's an expensive proposition to run a jail properly," said Head.
Animal control and the department's civil division are other points of concern.
"There are three things all sheriffs do," said Head. "One is public safety. Protect citizens and visitors. The second is protect the safety of our infrastructure. The third is to make sure you provide a constitutionally correct level of service, that you're not mean or mistreating people."
So why should voters give Head the nod?
"I believe people want an experienced law enforcement officer to take the helm at the sheriff's office. I'll bring with me 30 years of police management and 18 years of executive leadership experience to the position," he said.
"I care about Mohave County and its residents and I'll do my best to see their needs are met within the resources we have available. I bring a high level of law enforcement executive training and education that I'm prepared to use to make the MCSO the best organization it can be."