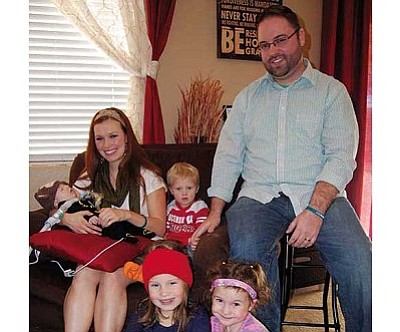 Originally Published: January 1, 2016 5:45 a.m.
In their weakest moments, when the darkness is at its deepest, when nobody else is around and putting on a brave face for the sake of others is not required, Carl and Mindi Stine rely on their abiding faith to get them through the next day, the next hour, the next minute.
It's been a little more than a month since 3-month-old Knox, their fourth child, took a nap from which he has yet to wake up.
Doctors at Sunrise Children's Hospital in Las Vegas, where Knox was taken the night of Nov. 30, could not declare the baby brain dead because he could breathe on his own, not enough to sustain life, but enough to let them know something was still going on in there.
The couple was given a choice: Take Knox off life-support or take him home, either way, the decision was theirs to make. Doctors would support whatever they chose. Eventually, after agonizing soul-searching and intense prayer, Carl and Mindi decided to bring Knox home to their well-kept Kingman home. This is where Daphney, 6, Tessa, 4, and Keegan, 3, live, eat and play - and pray for their little brother.
"That first exam, they said he was brain dead and we all said goodbye," said Mindi in an emotional interview Wednesday, a week after Knox came home. His bed is in the living room, and if not for the machines and monitors and respirator and feeding tube, one would never think Knox was doing anything but taking a peaceful late-morning nap. His tiny chest rose and fell, rose and fell. About two breaths every minute are his own. Modern medicine and technology provide the rest.
And while the Stine family is deeply religious, they are also human and just as fragile as the rest of us. "I have all the emotions as anyone else," said Mindi. "I have grieving, pain, sadness, thoughts of what the future may hold."
She's strengthened by the kindness of friends, not to mention complete strangers - two women showed up on Christmas Eve with gifts and food, another woman who recently buried her own child arrived with goodies and love, and too many others have reached out to the family - but her rock is the word of the Lord.
"I find comfort in my Bible," she said. "I know he will give grace to us. I know I can trust his plan better than I can imagine for myself. We believe in the Bible and we'd rather trust in God, rather than let our emotions take over. We pray together and help each other when one of us is feeling weaker."
The older children, young as they are, are aware. "They know what's going on," said Mindi. "They pray for Knox and then continue on with their happy lives. They have a childlike faith, and that's what God wants all of us to have, a childlike faith in him."
Tough road ahead
Faith might be the anchor of their lives, but the Stines are nothing if not realistic about a future that has suddenly become frighteningly uncertain. Carl is taking a 90-day unpaid leave from work at Mohave Mental Health - where he cares for children with acute conditions, many of them in residential or group homes. His job is secure, but money is a concern. Even if the family was richer than the Rockefellers, the help they need simply isn't available in Kingman.
"This is one of the biggest struggles," said Mindi. "There's no pediatric help in Kingman. They're not available for home care."
The family needs two licensed pediatric nurses to provide round-the-clock care, each working a 12-hour shift. They have to drive Knox to Phoenix to see specialists, though they are deeply grateful their general practice pediatrician, Dr. Ahmad Khan, is in Kingman. Of course, Carl's coworkers, members of their church and perfect strangers have offered to help, but they are reluctant to take them up on it. "We don't want to interrupt their lives," said Carl. "They have their own families, their own children."
Rather than allow themselves to become overwhelmed, they turn to God. "We're waiting for God to show us," said Carl.
"From the beginning, we knew these children were from God. We trust God with them more than we trust us with them," said Mindi, as tears streamed down her face. "It's hard for me. I want Knox back."
"Oh yeah," she said when asked if they ever discussed removing Knox from life support. "We would talk, and then we would read our Bibles so we can see God's word. That's how he speaks to us, but this is hard for us to accept."
Mindi said she is the type of person who likes to make plans, but the future hasn't yielded any of its secrets. "For me, not knowing the plan when Carl goes back to work is daunting ... but so many people are a phone call away."
An active brain
Nobody knows how much brain damage Knox suffered, but he isn't brain dead. The first exam indicated he was and the family said goodbye.
"The second exam did not confirm it because he breathed on his own," said Mindi. "The doctor said 'we cannot declare him brain dead. He's breathing.' We did not expect that. We were planning a funeral, but that's when they gave us our options."
The doctors and nurses were stunned when Knox breathed on his own. Mindi said the Bible is full of God "giving breaths," starting in the very first book, Genesis, with Adam.
A family at peace
The decision to bring Knox home calmed ragged emotions. "It gave us peace," said Carl.
"The doctors were trying to convince us it wasn't worth it. They mentioned his quality of life, but life is very sacred and it's not ours to take away," said Mindi.
"There are moments when it's very hard to look at Knox that way," said Carl. "I asked myself, 'Did you make the right choice?' and I don't have any doubt we're doing the right thing."
"We're still praying for a miraculous recovery," said Mindi. "We don't know if that is God's will."
What they do know, with absolute certainty, is God has helped them keep things together.
"Without God, we'd be a mess," said Carl, the son of a pastor. "This is nothing compared to the night it happened and the first couple of days in the hospital. God has been there. He's been a real, tangible presence."
While not saying the word miracle, Carl and Mindi believe a few have already occurred.
Carl's quick actions performing CPR that frantic last night of November undoubtedly kept Knox alive. Doctors' best guess is Knox was the victim of sudden infant death syndrome - a diagnosis made when no other cause can be found - but the chest compressions Carl performed kept the infant alive. The second exam showed Knox was capable of breathing on his own, preventing doctors from declaring him brain dead.
The third miracle is the fact Knox is home. "We were told from the beginning that kids like Knox don't ever leave the hospital," said Carl, "but here he is."
More like this story