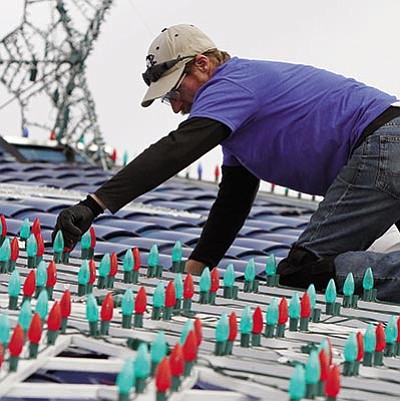 Originally Published: January 4, 2016 5:59 a.m.
David Preston's home on Shadow Mountain Drive has become a staple in many Kingman resident's holiday festivities, but it almost didn't happen. Preston said that he used to be a bit of a "Scrooge" before he moved to Kingman and that he never decorated for Christmas.
When he moved here with his wife, she pointed out that the hooks hanging from the house were there for Christmas lights and he agreed to put some up. It's been getting bigger and grander ever since.
This past holiday, he said there was solid bumper to bumper traffic down the street for three hours on both Christmas Eve and Christmas nights as people enjoyed the display.
This year he and several volunteers spent 30 days putting up 150,202 lights for his Christmas display.
Now that the New Year has begun, it's time for the lights to go back into storage. He said it takes 3 days to take down all the lights with help from family, friends, and handymen.
He will spend the coming year working on planning and preparing for his display next holiday season. Preston said he decorates for Halloween, then the Christmas lights begin to go up the day after Halloween.
It takes eight to 10 hours of work a day in order to have the lights ready by Thanksgiving. He said he lost 10 pounds putting the displays up this past year.