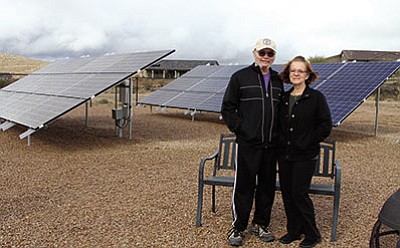 Originally Published: January 8, 2016 6 a.m.
KINGMAN - With solar technology advancing at warp speed and financial incentives for going green, homeowners and businesses are taking advantage of what appears to be an infinite source of energy that shines brightly on Arizona from 93 million miles away.
Solar energy is no longer a costly, cumbersome experiment.
That's why federal subsidies are slipping away and utilities are feuding with solar customers over electric rates.
Nearly every week, Mohave County Development Services issues building permits for ground-mount and rooftop photovoltaic arrays that provide homeowners independence from the power "grid" and stability on their energy bills.
Going solar can reduce monthly electric bills by 65 percent and increase the value of your home.
"I have it on my house and we've been installing it for six or seven years," said Doug Angle, president of Angle Homes. "We probably put in 15 last year."
Solar systems are environmentally beneficial and, in some cases, homeowners can sell excess power generated during the daytime back to utilities and buy it back at night when it's needed in a process called "net metering." The sale and purchase rates are the same.
That does nothing for the bottom line of utility companies such as UniSource Energy Services. The central issue for utilities is they're storing electricity for customers and redistributing it at the same cost.
"That's the big fight right now," Angle said. "They don't think it's fair."
Balancing act
It's a conflict that gets hostile at times, said Susan Bitter Smith, former Arizona Corporation Commissioner.
Managing excess energy is going to be a "balancing act" between utility companies, customers and businesses, she told the Mohave Republican Forum in November.
Regulators are spending an increasing amount of time figuring out how to deal with electricity being created by photovoltaic arrays, and how much utilities should pay for energy sold back to the grid, Smith said.
People with solar systems are essentially using the grid as a battery, said Joe Barrios, spokesman for UniSource in Tucson.
Rooftop systems generally produce the greatest power earlier in the day, depending on the time of year, but customers need the power most at night, he said.
"Electric power is not something you can produce and easily store," Barrios said. "It's produced when it's produced and used when it's used. The bill that they pay doesn't accurately reflect the cost of providing that service to them."
Net metering is a component of UniSource's application filed in May with the ACC for a rate increase, Barrios said.
"For customers with rooftop solar, would they receive less compensation for solar power they produce? Yes, they would," he said. "But would their bill be significantly less than that a regular customer? Yes, it would.
"The idea is whether it comes from homeowners' rooftops or whether it comes from solar farms, we would be paying the same amount for each kilowatt from each one of these systems."
For more information on the rate application, go to www.uesaz.com/news/updates/e-rates.
Fair rates
Arizona Corporation Commissioner Bob Burns supported a net metering compromise promulgated by the solar industry and the Residential Consumer Utility Office in November 2013.
"Since then, I have publicly encouraged the utilities and solar industry to work together to propose productive solar energy policies," Burns said in an email to the Daily Miner. "I am hoping this will be accomplished in the value and cost of distributed generation proceeding that is currently underway."
In the 2013 net metering decision, the Commission directed staff to establish a methodology for determining the reimbursement rate for solar customers. The hearing is scheduled to begin April 18.
"I look forward to this proceeding because I am hopeful that the many issues to be addressed could be helpful to the Commission in the future," Burns said.
Most utilities regulated by the ACC, including UniSource Energy Services, have eliminated incentives for solar installations. Despite the loss of those incentives, the number of solar installations continue to rise significantly.
By 2020, the United States will be installing 20 gigawatts of solar capacity annually, according to the Solar Energy Industry Association. That's equal to the total amount of solar installations in U.S. history at the end of 2014.
Dwindling subsidies
The state of Arizona and federal government offer a number of incentives to make it affordable for people to go solar. There are tax credits for residential solar systems, special mortgages for energy-efficient homes and residential renewable energy tax credits.
For example, Arizona's Solar Energy Credit is available to taxpayers who install a solar or wind energy device at their residence. The credit is allowed against the taxpayer's personal income tax in the amount of 25 percent of the cost of installing the device, up to $1,000 maximum.
Qualifying systems include solar water heaters, solar heating for swimming pools and spas, photovoltaic phones and street lights, passive solar building systems and solar daylighting systems.
The government allows homeowners to deduct 30 percent of the cost of solar systems from federal taxes through an investment tax credit.
Federal subsidies have provided as much as $24 billion for wind and solar developers from 2008 to 2014, according to a report from the Solar Energy Industry Association and the Solar Energy Industries Association and Bloomberg New Energy Finance.
However, those rebates were designed to encourage the early use of solar, and subsidies are dwindling as the fund pays out on more homes.
The most significant tax credit for solar power was set to expire at the end of this year, but legislation signed in December will extend those credits until Dec. 31, 2021.
The bill extends the 30 percent solar investment tax credit for both residential and commercial projects through the end of 2019, then drops the credit to 26 percent in 2020 and 22 percent in 2021. After that, it drops to 10 percent permanently for commercial projects and 0 percent for residential.
The extension of the tax credit will lead to sustained growth in the U.S. solar industry, said Rhone Resch, president and chief executive officer of SEIA. It will lead to more than 72 gigawatts of solar photovoltaic installations from 2016 through 2020, and will add 220,000 solar jobs over the next five years, he said.
"The solar industry now has a seat at the table with the nation's other major electricity producers," Resch said in a statement. "Solar is the planet's most abundant source of energy and offers all Americans clean electricity that can be built at scale and will make our nation proud and prosperous as a world leader in a new energy paradigm."
Installation cost
John and Sandi Myers spent about $21,000 to install a new solar unit in their Kingman home in November.
They're hoping to bring their monthly electric bill down to nothing, the way it was at their solar-powered home in Lake Havasu City.
"We're both retired on a fixed income, so we're looking at not having an electric bill," Sandi said. "We had older panels in Lake Havasu, so they were not as efficient. For nine months, we didn't have a bill. We really liked it. We didn't have to worry about cranking the air conditioning."
Myers said they won't be getting the rebates they had in Lake Havasu. But with the 30 percent tax credit, they won't have to pay any federal taxes for 2015.
The cost for a solar energy system varies depending on the size of the home, typically starting at about $15,000 for a 5-kilowatt system, home builder Angle said.
"We try to size it on how much power it's using," he said. "Some homes have a pool, some homes are larger. How high do they set the air conditioning temperature?"
The biggest hurdle to affordable solar energy remains soft costs such as permitting, zoning and hooking the system to the power grid. On average, that comes to more than $2,500.
It costs $15 a month to be connected to the grid now, and utilities want to increase that to $50 to $75 a month for solar customers, Angle said.
An average 2,000-square-foot home takes about a 6,000-watt solar array to meet all of its power needs, said Clyde Pease, construction superintendent with Angle Homes.
Ground-mount solar is more expensive than rooftop because of footings and higher costs in racking. The price of a solar system runs about $3.15 a watt for rooftop and about $3.50 a watt for ground-mount.