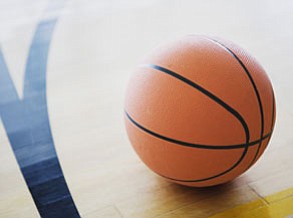 Originally Published: January 8, 2016 6 a.m.
KINGMAN - It was nip and tuck for three quarters even though Scottsdale Prep was winning the free throw, rebounding and loose ball battles. The Spartans finally capitalized on those three components in the fourth quarter and took down Kingman Academy Wednesday at KAHS, 73-60.
"It was the simple things that we do every day that we stopped doing," said KAHS boys basketball coach Brian Devincenzi. "One pass and a jump shot. One guy trying to dribble drive through everybody and put it up. We stopped executing."
While the two teams went back and forth in the first half and ended it tied at 32-32, the underlying story was that Kingman Academy point guard Jeffry Chinyere was in foul trouble. He picked up his third foul in the second quarter and quickly picked up his fourth inside of three minutes played in third quarter. That forced him to sit on the bench for nearly nine minutes until there were approximately four minutes left in the game.
Point taken
"I thought maybe there was an imbalance of fouls," Devincenzi said. "Not being able to have Jeffry out there - who is our quarterback - that was devastating. There's no replacement for Jeffry at the moment. We're going to have to grow one."
Kingman Academy (4-4 Division III) was whistled for 24 team fouls plus a technical on Devincenzi. Scottsdale Prep (4-3) had 20 team fouls called on it. The Tigers made 12 free throws and Scottsdale scored on 19.
"Scottsdale Prep shot well," the coach said. "They did what they had to do. They hit their jump shots and made their free throws."
Brock Petty scored a game high 33 points for Scottsdale.
Scottsdale led 47-46 after three quarters and pulled away in the fourth with a 9-0 run that made it 60-51. The Spartans made four 3-pointers in the final eight minutes and sank eight free throws down the stretch.
Scottsdale also had the advantage in rebounds and getting to the loose balls. The Spartans seemed to have more than one shot at a bucket on every one of their possessions while limiting the Academy to just one attempt on its end.
"It comes down to you have to do what the team is designed to do," Devincenzi said. "Our team is designed to run the flex offense and rebound. We didn't do that."
Cade Martin led the Tigers with 17 points. P.J. Homer added 16 and Chinyere finished with 11. Garen Steed contributed five, Tyler Chinyere scored three and Kannon Butler had two.
The win has Scottsdale ranked No. 22 in D-III, and the Academy is No. 26. The Tigers next play at the Lake Havasu Invitational beginning today.
More like this story