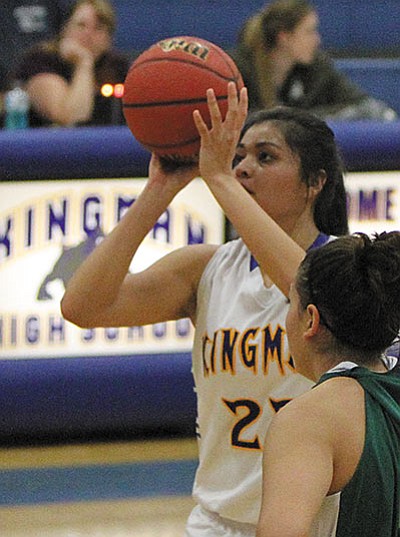 Originally Published: January 8, 2016 6:02 a.m.
KINGMAN - At KHS, senior Desirae Gonzalez recorded another double-double with 35 points and 10 rebounds to lead the No. 8-ranked Kingman High girls basketball team to a 56-41 win over No. 28 Maryvale (4-4) in Division III action Wednesday.
It's a big week for Gonzalez. She's one of three Arizona high school girls nominated to be a McDonald's All American. And when Kingman suits up against D-IV's No. 10 River Valley (4-1) at 5:30 p.m. today at KHS, Gonzalez's third point of the game will give her 2,000 for her career.
Against Maryvale, Kingman (7-0 D-III) led by six at the end of the first quarter, 17-11, and then blew the doors open with a 19-4 second quarter to lead 36-15 at the half.
"I'm really proud of how we came out as a team," Gonzalez said. "I told the team in our pregame huddle that we needed to come out strong. We did and it showed."
Makenna Taylor scored eight points and had four steals for the Lady Bulldogs. Kim Carroll contributed seven points and Courtney Mossor had six.
GIRLS SOCCER: Lake Havasu 4, Lee Williams 1
At LWHS, Sadie Serrano and Lee Williams drew first blood early in the first half, but Lake Havasu (2-3 D-III) managed to score its own goal to tie the match at halftime, 1-1. The Knights added three in the second half to pull out the win, 4-1.
Shots on goal were nearly even, but it was Lake Havasu winning the race to the ball in the final 15 minutes that made the difference.
Sienna Cobanovich assisted on Serrano's goal, and Lee Williams (2-6-1 D-IV) keeper Mia Santos had 18 saves.
The Lady Vols next play at No. 1 ranked River Valley (4-0) in a section match at 4 p.m. Jan. 20.
SOCCER RANKINGS
The first day of soccer rankings were released by the Arizona Interscholastic Association on Thursday. There are five automatic selections (section champions) and 11 at-large selections to comprise the Division IV state tournament.
Both Kingman and Lee Williams have started off in good shape to qualify for the postseason in the 46-team D-IV. Kingman opened the rankings, which are updated every morning, at No. 14 and Lee Williams is at No. 16.
On the girls side, Lee Williams is No. 24 and Kingman No. 25 in that 38-team race.