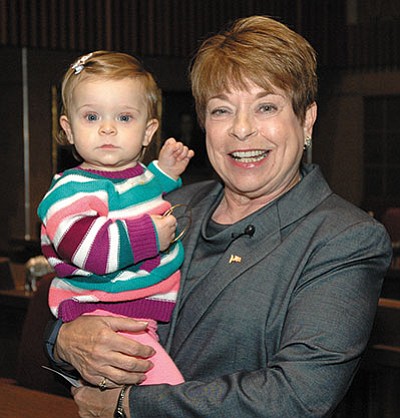 Originally Published: January 11, 2016 6 a.m.
KINGMAN - Education funding and tax reform are expected to be among the top issues facing the Arizona Legislature when the session starts today, and local lawmakers are going to push for a bill on property lien abatement, Rep. Sonny Borrelli, R-Lake Havasu City, said Friday.
Mohave County spends a lot of money taking over distressed properties, cleaning up abandoned homes that are totally trashed and posing a health and safety hazard, and places a lien on those properties to recover costs.
The bill would give the county priority on those liens, even if the property goes into foreclosure or is sold.
Borrelli said he supports Gov. Doug Ducey on Proposition 123, a K-12 education funding settlement that includes money from the state's general fund as well as the state's Land Trust Proposal. The settlement would infuse $3.5 billion in education funding over the next 10 years without raising taxes, Borrelli said.
Nearly half of the state budget goes toward funding K-12 and higher education, he noted.
Borrelli is also introducing a bill to make it legal for college students and faculty to carry concealed weapons on campus, if they have a permit.
"We have to have a serious conversation over failed policies," Borrelli said, referring to college shootings that included Northern Arizona University in October. "I'm not playing hardball. We have to understand they have responsibilities also, both the individual and the college."
He had a parent call him about their daughter at NAU using an expandable baton to thwart off an attacker, smacking him in the knee. When she reported the assault, campus authorities asked her if she really wanted to go through with it, as she would be expelled for carrying a concealed weapon.
Sue Donahue, who was sworn into office Thursday to fill the remaining term of Kelli Ward in Senate District 5, said the budget is always a big issue for the Legislature.
"I think the sweeps are important. We need to see those stopped and we need to get HURF (Highway User Revenue Funds) back," she said.
"There's a little bit of hope there. I'm not sure until we go to committee hearings. You just have to be realistic and put money back in the rainy day fund because you never know when the economy's going to bump again," said Donahue, a Republican from Lake Havasu City.
Rep. Regina Cobb, R-Kingman, said she's been asked by Mohave County Board of Supervisors to sponsor a bill on the indigent defense fund, specifically asking for a shift of juvenile detention cases from the county back to the state.
"We had to take a hit last year," Cobb said. "They shifted the burden back to the county. We don't have control over how many juvenile cases we get. We don't know if it's 10, 20 or 30."
She's also heard the Mohave County Contractors Association "screaming" over the transaction privilege tax that needs to be reformed. Prime contractors have a "big mess" on how they do their reporting, she said, and they want to simplify the system and get funds back to the cities and counties.
Among Cobb's 15 proposed bills is a requirement for suppliers of durable medical equipment to be located in Arizona. A lot of "fly-by-night" suppliers from Florida and other states are providing patients with oxygen, and Cobb wants to make sure the equipment is available within 100 miles of the patient.