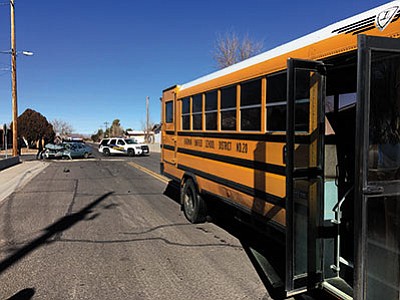 Originally Published: January 12, 2016 6:17 p.m.
KINGMAN - An 18-year-old Golden Valley man was cited Monday after he reportedly dropped something on the floorboard of a 1995 Toyota.
His foot reportedly pressed down on the accelerator when he reached down to pick up the item. The car crashed into a Kingman Unified School District bus that was carrying three elementary school students, who were not injured, at about 1:45 p.m. in the area of Hope Avenue and Main Street.
A co-driver who was standing in the bus received minor injuries, according to Kingman Police spokeswoman Jennifer Sochocki.
The car's driver was cited for failure to yield at a stop sign and an insurance violation.