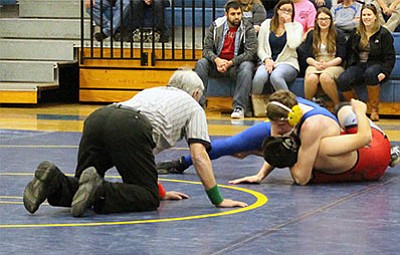 Originally Published: January 14, 2016 6:02 a.m.
KINGMAN - River Valley gave away seven matches to the tune of 42 points and the Kingman High wrestling team cruised to a 60-11 win Tuesday at KHS.
Kingman forfeited at 126 pounds and two double forfeits occurred at 132 and 285.
Joshua Schreuder improved his record to 12-1 in the 182-pound class. Schreuder pinned River Valley's David Schumaker in 1 minute, 9 seconds to score six points for the Bulldogs.
"I've been working with Humberto (Ayala), and he's been helping me defend against throws and upper body work," Schreuder said. "Conner (Mahlmeister) has been working with me defending shots. It all came together on the mat and it's pretty awesome."
When Schumaker was counted out, Schreuder jumped up and gave a fist pump. He said he's been struggling with matches going into the third round and was pleased to get one in the first.
"It's a chain reaction," he said. "You go out there with confidence when you engage, you can get it done fast and speed it up. It makes you happy and you just want to jump."
Kingman's Christian Barrios improved to 18-3 at 113 with a 3:27 pin over Logen Westen, and Mason Wester at 145 went to 20-2 with a 1:45 pin against Chance Morgan.
Kingman next wrestles Friday and Saturday at the 52nd Annual Doc Wright Invitational in Winslow.