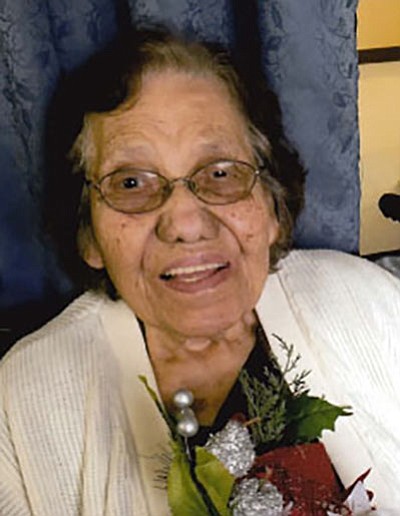 Originally Published: January 14, 2016 6 a.m.
Jackie Landavazo was 92 years of age and passed away peacefully in her sleep at 12:04 a.m. on Jan. 2, 2016, with her great-granddaughter, Veronica Martinez, by her side. Jackie was born Oct. 13, 1923.
Jackie was preceded in death by her husband, Porfirio, and her two sons, Danny and Henry. Jackie is survived by her seven daughters, Linda Martinez, Dina (Richard) Martinez, Percilla (Steve) Montelongo III, Dorothy (Tony) Baca, JoAnna Landavazo Chavez, Theresa (Mike) Gardner, and Catherine Landavazo. She also leaves behind three sons, Ernest, Tony, and Larry. Jackie has 18 grandchildren, 37 great-grandchildren, 26 great-great-grandchildren, and six great-great-great-grandchildren.
Jackie worked many years as a cook for the senior citizens in Flagstaff, and then as a senior companion in Flagstaff. She was a member of the Guadeloupians at Our Lady of Guadalupe Church in Flagstaff. She was also a member of Triangulo Club in Flagstaff.
A rosary will be held at 9:30 a.m. Friday, Jan. 15, followed by a Mass at 10 a.m. at St. Mary Catholic Church in Kingman. Internment will be held at Calvary Cemetery in Flagstaff at 11 a.m. Saturday, Jan. 16, with a graveside service.