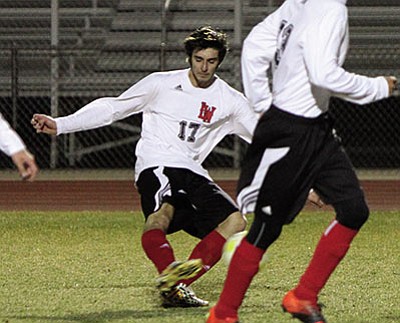 Originally Published: January 14, 2016 6 a.m.
KINGMAN - The 2015-2016 soccer season is drawing to a close and each and every match can mean getting into the state playoffs or not for the Lee Williams High boys team. The Vols took care of business in a 4-0 win over Antelope (2-5, 0-4) Tuesday in a Division IV, Section I match at LWHS.
Lee Williams (4-3-1, 3-1) is currently ranked No. 15, which has it in the hunt for a spot. Only 16 teams out of 46 get to advance to state.
Volunteers boys soccer coach Ray Tapia used the match to get some of his younger players adequate playing time to prepare them for the next four and final matches of the regular season.
"I was pleased with our performance tonight," Tapia said. "I was excited to have the variety of fresh young players to recruit to the lineup and allow them the opportunity to shine."
It took the Vols a while to get things smoothed out with the changes. Lee Williams got its first goal in the 19th minute when senior midfielder Brandon Sahawneh stole the ball from Antelope and got a shot from 18 yards away into the back right corner of the net.
It was a 1-0 match for the next 18 minutes until senior Devan Salmon took Carlos Castaneda's throw-in off his head for a score. Castaneda knows how to throw a ball in, and the Vols scored their third goal just a minute later when Michael Mendola converted another of his throw-ins.
Lee Williams didn't get its fourth goal until the 77th minute when Andrew Tatzel stole the ball and delivered a through ball to Salmon, who then scored his second goal of the match.
Starting keeper Colin McMullen and reserve Tanner Smith combined to shut out the Rams for Lee Williams.
The Vols host No. 17 River Valley (2-3-1, 1-2) in another pivotal division and section match at 6 p.m. next Wednesday.