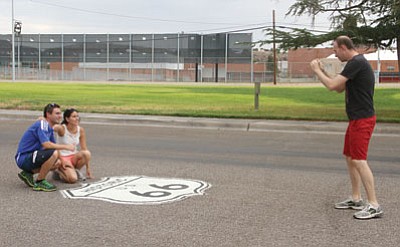 Originally Published: January 15, 2016 6 a.m.
KINGMAN - The Route 66 Association of Kingman will feature noted author and Route 66 historian Jim Hinckley for a fundraising event Saturday at Beale Celebrations, 201 N. Fourth St.
Hinckley will present "An Armchair Tour along Route 66: Main Street of America" starting at 5 p.m.
Tickets to the event are $25, and include dinner provided by downtown restaurants. Stetson Winery will be selling Route 66 wine.
Hinckley has written 14 books, including "Ghost Towns of Route 66," "The Route 66 Encyclopedia" and "Backroads of Arizona." He's been interviewed for documentaries and magazine stories on the highway, and has made presentations for international tour groups from The Netherlands, the Czech Republic, Australia and Germany.
Following a drawing and silent auction, guests may participate in an informal walking tour of downtown Kingman with stops at the House of Hops, Cellar Door and Black Bridge Brewery.
All donations are tax-deductible through the nonprofit Route 66 Association of Kingman, and funds raised from the event will go toward the group's Neon Sign Project, which is part of the 90th anniversary celebrations for Route 66.
Seating is limited. Contact Jamie Taylor at 928-530-2056 for tickets.