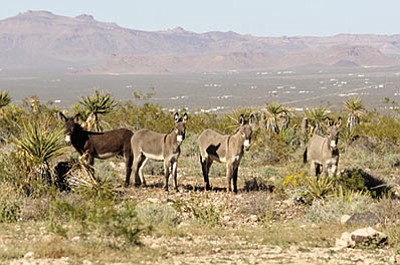 Originally Published: January 19, 2016 6 a.m.
Saying that the Bureau of Land Management has not lived up to the agreement it made in the Black Mountain Ecosystem Plan of 1996 concerning burro numbers in the Black Mountains, the Mohave County Board of Supervisors will meet today to discuss and take action they hope will force this federal agency to do its job.
The problem is that burro numbers have now reached an epidemic level in the Black Mountains and in the areas along the Colorado River, which is the western border of Mohave County.
I've covered this burro issue on a number of occasions, the last being in May when I wrote a series of articles starting with the background of the Black Mountain Ecosystem Plan, which was signed in 1996. I started the series after the local BLM office gave a cute "Dog and Pony" show and tried to pull one over on the public about how they were dealing with the burro situation. (They weren't dealing with it then, and still aren't dealing with it!)
Since that time, burros have caused motor vehicle accidents in and around Bullhead City, so it's not just the desert ecosystem that's taken a beating. Public safety has too.
So now our county Board of Supervisors will try to turn up the heat on the agency. A memo they have written states: "Direct staff to prepare and bring back a resolution calling upon the BLM to reduce burro population to less than 817 within the next fiscal year or the county will: a) seek legislation authorizing state agencies to issue hunting permits to bring the local burro population within acceptable and safe limits; b) pursue litigation to compel the BLM to comply with the management plan."
While I applaud the supervisors for getting involved in the burro issue, I've got good news and bad for them.
First of all, there is no way in heck (or Chloride) that you're gonna see any kind of legislation that would allow for the sport harvest of burros. Burros are federally protected by the wild horse and burro act.
The BLM and only the BLM have been delegated by Congress to manage these destructive and prolific non-native feral exotic critters on public lands.
And then there's the uniformed public who thinks that burros are the darlings of the desert. They would blow a gasket at the very thought of hunters out there removing them. These same people who say they are for a "no shoot" policy when it comes to hunting as a form of wildlife management will call for your heads for even proposing such an action!
To digress, I was part of the Black Mountain Ecosystem Team and worked on that plan for three long years.
In the end, it was decided by all parties - including the wild horse and burro people and the BLM - that the authorized management level of burros in the Black Mountains would be set at 478 animals, not the 817 alluded to in the proposed motion.
So while your idea to force the BLM to comply with the 1996 Plan is a good one, you need to get your ducks in a row before you start all of this!
The second part of the Board's motion may have merit.
I understand that all Colorado River counties, including La Paz and Yuma, are willing to get on the bandwagon to try to force the BLM to do what they are mandated by law to do. Those counties have burro issues, too.
Add in the Arizona Game and Fish Department, which is also sick and tired of the BLM dragging its feet on the burro management issue, and maybe, just maybe, you will collectively have enough juice to go to court with your issues.
Are you aware that at the state's largest shooting range, Ben Avery (which is located just north of Phoenix), there is a problem with burros roaming around, causing all kinds of issues? Game and Fish can't get the BLM to do anything?
I wonder if the public is aware that Game and Fish is estimating that the burro population in the Black Mountains right now is as high as 1,800 burros. Let's do the math. That's over three times the agreed levels of burros in the Black Mountains under the 1996 Plan.
Let's review what these burros are doing to that fragile desert ecosystem.
We know that as non-native feral exotics, burros were brought to the area by miners in the 1800s as beasts of burden.
Burros are in direct competition with native wildlife. That includes desert bighorn sheep and mule deer. Wildlife need four things to survive - food, water, shelter and spatial arrangement. That's wildlife management 101.
Burros cause a lot of damage to plants in the desert. These plants did not evolve in the desert ecosystem with burros munching on them.
Burros destroy and kill native plants such as ocotillo, and willow trees in riparian areas.
I don't believe that people in the local BLM office don't care about the ecosystem and wildlife. I know a lot of them and I'm sure they do care about the health of the land. But their hands are tied at the local level.
The problem is the BLM has no place to put animals that they capture, so they can't go out and capture excess animals.
BLM spends millions of dollars annually to pay private ranchers and farmers across America to feed and support wild horses and burros that have already been captured.
So the burro saga continues and without some real action it will not resolve itself.
Here is an idea to bring this problem to the attention of the national news.
How about getting that Bundy guy and his crew to come to Kingman and take over this BLM office until they remove the excess burros in Mohave County?
Boy, would that get folks excited.
No, I'm not seriously advocating that action, but something had better be done, and it had better be done quickly.
It takes the desert and native wildlife a long time to recover from damage that is done out there, whether caused by man or beast.
This burro problem, while affecting local communities, really needs to be addressed by Congress. The Wild Horse and Burro Act was a misconceived piece of legislation that needs to be revisited and changed.
More like this story