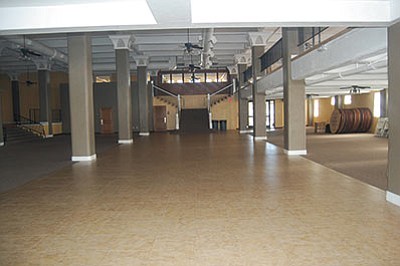 Originally Published: January 21, 2016 6 a.m.
KINGMAN - Members of Central Christian Church and city taxpayers alike can rejoice.
The City Council avoided being named in a $3 million civil rights lawsuit Tuesday night when members reversed their decision to deny a church the opportunity to worship at a historic downtown building.
With no public comment offered following a meeting in closed session with City Attorney Carl Cooper, the Council voted 7-0 to "reconsider" its December vote to deny Central Christian Church a conditional use permit to worship in the largest empty space available at the Central Commercial Building, which sits in the heart of the city's newly created downtown entertainment district at Fourth and Beale streets. The building is home to Redneck's Southern Pit BBQ and the Cellar Door wine bar.
Cooper and attorney Matt Lockin, who represents the church, met in private and reached a possible solution, which the Council approved with three key caveats Councilman Mark Abram recommended. The permit will be reviewed in one year to evaluate what kind of impact, good or bad, the church has on downtown. The church will not be allowed to operate a soup kitchen for the homeless or a methadone clinic for heroin addicts. The permit also expires after five years - which is the length of the lease the church has with building owner Carol Ott.
The vote was unanimous following a split vote in December in which the Council denied the permit. However, the First Amendment's protection of religion and the federal Religious Land Use and Institutionalized Persons Act, according to Cooper, made issuing a denial very difficult absent a "compelling government interest."
The key complaints from opponents who didn't want the church, many of them downtown merchants, focused on parking concerns and their opinion that a church doesn't belong in the entertainment district. The Council hastily created the district last fall when it became known Central Christian Church was looking at downtown locations after worshipping at Lee Williams High School for a few years.
Planning and Zoning commissioners recommended the Council approve the permit after learning of the religious land use act, which clearly spelled out the very narrow avenues the city could use to deny the permit. The Council in a split vote denied the request and Lockin filed a notice of claim against the city in which the church would seek $3 million in damages. The Council then directed Cooper to meet with Lockin to iron out a compromise.