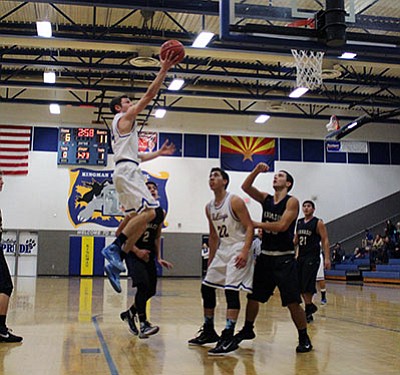 Originally Published: January 21, 2016 6:02 a.m.
KINGMAN - They could easily be 2-0 in Division IV, Section III, but the Kingman High boys basketball team has dropped its first two section games by a total of five points and sits at 0-2.
The Bulldogs lost to Joy Christian last Thursday, 52-49, when a buzzer beater came up empty and they fell to Mohave Tuesday at KHS 39-37 when a final heave found nothing but air.
"We were right there," said KHS boys basketball coach Nick Juby. "Turnovers late killed us, but we only scored five points in the third quarter and six in the first. Yet, we were still right there."
Kingman (4-7, 0-2) had several opportunities down the stretch to either tie or take the lead from Mohave (7-5, 2-0), but the Bulldogs turned it over three times with poor passes in the final 23.4 seconds.
"The turnovers in the second quarter are just as important as the turnovers late," Juby said. "They hit a 3 right before half and we lost by two."
A big blow to the Bulldogs came at Monday night's practice when leading scorer and team leader Jordan Dupee broke his wrist. Juby expects Dupee to be lost for the regular season with a slight trace of hope that he could return if the Bulldogs make the section tournament by finishing in the top four.
"Not one guy can replace what Jordan does," the coach said. "Yeah, it's 14 points per game and that's big. But he also gets seven rebounds, four assists and at least one amazing block per game. I told them that each and every one of them needs to just do a little more. One more basket, one more rebound. Just one more and it adds up."
Kingman trailed by seven at the half, 27-20, and by eight at the end of the third quarter, 33-25. The Bulldogs cut it down to one a couple of times late but just couldn't take the lead from the T-birds.
"They proved to me they are more than capable of stepping up to the challenge," Juby said. "The defensive effort - you hold a team under 40 and you're winning 99 percent of the time. This just happened to be that one percent."
Anthony Pinto led Kingman with 10 points. Elijah Howery scored seven, Tanner Best added six, Jon Hunt and Raymond Barteau each contributed five, and Miguel Salinas finished with four.
The Bulldogs are just about in must-win territory, and that begins by hosting Wickenburg (4-6, 1-2) at 7 p.m. today. But Kingman has more bad news.
Salinas was ejected against Mohave for a flagrant foul and by NFHS rule he must sit out the Wickenburg game. That's another Bulldog starter out of the lineup.
"We'll make it work," the coach said. "They played just the way I wanted them to. They couldn't have executed the game plan any better."