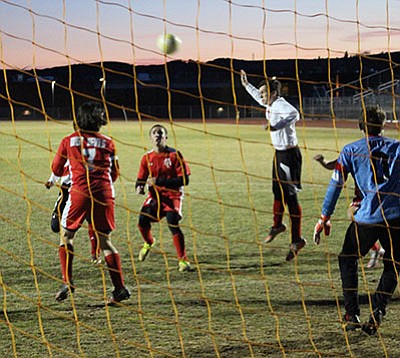 Originally Published: January 22, 2016 6 a.m.
KINGMAN - Entering the 2015-2016 soccer season, the Lee Williams High Volunteers knew they would go as far as their defense took them. The Vols kept their postseason hopes alive with an outstanding defensive effort in their 2-1 Division IV, Section I win over River Valley Wednesday at LWHS.
"That was pretty intense," said senior midfielder Travis Keefe. "We're right at the peak of getting into the state rankings, so we were out there playing our hearts out."
Keefe gave No. 17 Lee Williams (5-3-1, 4-1) a 1-0 lead just three minutes into the match on a penalty kick. Three minutes later, the Vols' Brandon Sahawneh made it 2-0 when he redirected a cross from an indirect kick that was initially knocked away by Dust Devil keeper Brendan Kutz. Sahawneh followed the deflection and converted it into a goal off of the rebound.
No. 20 River Valley (3-5-1, 2-4) closed the lead to 2-1 before the 20th minute, and the two squads battled for the remaining 60 minutes without a goal.
Lee Williams needs to get into the top 16 with some help to advance to the state playoffs. If a section champion should be ranked lower than No. 16, then that seed would be knocked out of the postseason. The Vols' No. 17 ranking does not include the River Valley win.
Lee Williams has three matches remaining and next hosts Parker (2-7, 2-4) at 6 p.m. Friday. The final home match for the Vols and the first Senior Appreciation Night in program history begins at 5:30 p.m.
WRESTLING: KINGMAN WINS THREE
At Bradshaw Mountain, the Kingman Bulldogs swept the four-team round-robin. Kingman beat Lee Williams 52-24, Page 42-33, and host Bradshaw Mountain 39-35.
In the win over Bradshaw, Kingman trailed 35-33 when Humberto Ayala at 220 pounds pinned Bradshaw's Troy Burk in 38 seconds to give the Bulldogs the win. There was double forfeit at 285, but Bradshaw did send a wrestler to the table. Kingman team manager KayCee Brinkman quickly noted that the Bradshaw wrestler had not weighed in and was ineligible to wrestle. The double forfeit at 285 secured the win for the Bulldogs.
Five grapplers went unbeaten for Kingman. Christian Barrios at 113 pounds, Mason Wester (145), Danny Taylor (152), Conner Mahlmeister (195) and Ayala each went 3-0 for the Bulldogs.
Kingman and Lee Williams will each wrestle at the Page Invitational today and Saturday.
GIRLS BASKETBALL: WASHINGTON 30, LEE WILLIAMS 26
AT LWHS, the Lady Vols had plenty of opportunities to overtake Washington (8-4) in a D-III contest, but they didn't take advantage of them. Lee Williams (6-4) ended up falling to the Rams, 30-26.
The Lady Vols committed 24 turnovers and could only get 18 shot attempts against Washington's pressure defense. Lee Williams was without leading scorer Sadie Snay (10.3 points per game). Snay's neck stiffened during pregame warmups and she never made it onto the court.
Madi Arave led Lee Williams with 12 points. Chania Scott scored 4, Jackie Millim and Kaylee Bond each contributed three, and Marli Lauck and Madi McGlathery each had two.
The No. 30 Lady Vols, 1-0 in Section VI, host No. 16 Buckeye (9-3, 1-0) in a key section game at 7 p.m. today in the auxiliary gym at LWHS.
GIRLS SOCCER: WICKENBURG 6, KINGMAN 5
At KHS, the Lady Bulldogs wiped out a 4-1 halftime deficit but came up just short to Wickenburg (5-3), 6-5.
Kingman's Brittany Nelson left the game with seven minutes remaining and was transported to KRMC after colliding with a Wickenburg player. Nelson was released Wednesday evening with a concussion and whiplash.
Rachel Torres scored three goals for Kingman (1-7-1). Alea Cadillo added one, and Lilly Garcia tallied a score and had three assists. Keeper Desi Lammers finished with 11 saves.
Kingman (0-3-1 Section I) plays at Youngker (8-1, 2-1) in D-IV, Section I match at 6 p.m. today in Buckeye.
RIVER VALLEY 9, LEE WILLIAMS 2
At River Valley, Mia Santos and Sadie Serrano each scored for Lee Williams (2-7-1, 0-3-1), but it wasn't enough as No. 1 River Valley (9-0, 5-0) took the D-IV, Section I match, 9-2.
Lee Williams hosts No. 4 Sedona Red Rock (5-1-1) in a non-section match at 4 p.m. Saturday.