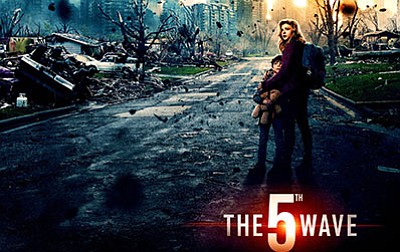 Originally Published: January 25, 2016 6 a.m.
There was something about the first 30 minutes or so "The Fifth Wave." It's called boredom. The voice-over was something you'd have playing as background noise to go to sleep. Even the visuals weren't that good. "The 5th Wave" is a movie adapted from the book of the same name by Rick Yancey.
Chloe Grace Moretz plays the heroine Cassie. She's not new to movies so I find it hard to excuse what seemed to me to be obvious acting mistakes. For instance, Cassie will be in a close-up talking to another character in a conversation that seems so choreographed you see in her eyes she's waiting for her cue to start speaking again.
We find her trampling through the forest, falling down a hill, with her face all dirty and nothing in her hair. A few minutes later, her face is all cleaned up. There were so many of these tiny slip-ups with her character that really kept me from believing in her character.
That's not to say the rest of the cast's performances were below par. Once the alien invasion starts in earnest, Cassie and her little brother Sammy (Zachary Arthur) try to find safety. Even their search for safety lasted way too long and was basically without a thrill. Only when they find a large group of survivors does the story get up and start to limp along.
Enter Liev Schrieber as Colonel Vosch who did an outstanding job as the group's military rescuers. He was calm, cool and collected, so you just know there's something up with him. When Zombie, played by Nick Robinson, asks if Schrieber was going to kill him Schrieber's response was as simple as asking him to pass the salt.
Maika Monroe's character Ringer was dead-on as a hardcore survivor rebelling against authority. You just knew she would come out on top at the end.
The story itself is good. The idea is that aliens would come to take over the earth and do so in certain stages or waves. The first wave is an electromagnetic pulse that shuts down all electronics. It goes from bad to worse to fifth wave (spoiler alert), where they get the humans to eradicate themselves. Pretty original and interesting. Unfortunately, it didn't carry through to the movie, which seemed sluggish.
There is violence, of course, but not the blood and gore of other movies in this genre. There is some profanity.
"The 5th Wave" is rated PG13 and runs almost a full two hours. The story is good, the movie not so much. I'll give it 1 out of 4 Miners.
More like this story