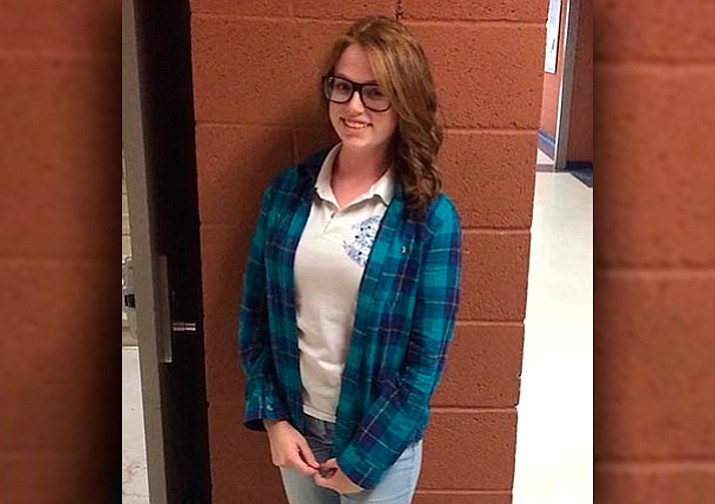 Originally Published: January 25, 2016 6 a.m.
At best, they're overlooked. They're water handlers, towel gatherers, floor sweepers and moppers. They're gofers (as in, "Go get this, go get that". Rarely are they ever considered heroes for the tasks they complete for the athlete-warriors who find their names littered across the sports pages.
"I can't function without (team) managers," said Kingman High wrestling coach Brendon Clor, who is in his 10th season leading the Bulldogs. "I have to have at least two."
I have visions that after Kingman defeated Bradshaw Mountain 39-35 in Prescott Valley Wednesday, the Bulldogs put team manager KayCee Brinkman on their shoulders and carried her off the wrestling mat like the Fighting Irish did for Rudy. I wasn't there to see if that happened or not, but if it didn't, it should have.
When two teams are evenly matched, as Kingman and Bradshaw showed they were, and forfeits enter the picture, wrestling becomes a game of chess for coaches. In wrestling, a lineup isn't announced. Wrestlers weigh in an hour prior to a match and are qualified at specific weights. A coach doesn't have to announce a wrestler until the moment right before the start of an individual match. The wrestler reports to the scoring table, and as long as he or she has weighed in earlier and qualified for the weight division, they proceed onto the mat.
Kingman trailed the Bears 35-33 with two matches remaining in the dual, at 220 pounds and the heavyweights at 285. The Bulldogs' Humberto Ayala took care of his business at 220 when he pinned Bradshaw's Troy Burk in 38 seconds and gave Kingman a 39-35 lead.
Clor told me that he looked up and his heart sunk as a Bradshaw wrestler made his way to the scoring table to report for the heavyweight match. Kingman has been forfeiting that division for weeks now because there is no one to fill it. Clor's hope for a double forfeit - and thus a Bulldog team win - faded a whole lot faster than my hair line.
"I handed Coach the weigh-in sheets and told him they didn't have anyone that weighed in for heavyweight," KayCee said.
Our hero had emerged from the shadows cast by those with the potential to become state champions. Clor said it has been about five or six years since the last time this scenario played out.
"I look at the weight sheet, put it on the clipboard and don't think anything more about it," the coach said. "That's what I do. I hand the managers stuff. The managers are the ones who catch things I miss. And every so often, they catch something that wins a match."
In the hallway behind the gym at KHS, there is a row of photos depicting the Bulldog Hall of Fame. KayCee's portrait deserves to be up there for all team managers.
She deserves attention and shouldn't be overlooked.