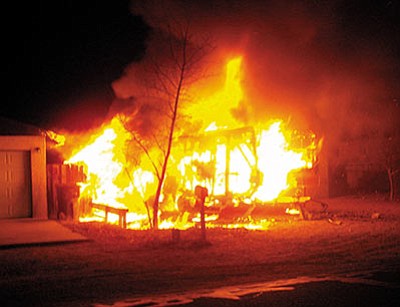 Originally Published: January 26, 2016 6:02 a.m.
KINGMAN - A suspicious fire fueled in part by "extreme hoarding of domestic garbage" destroyed a travel trailer and singlewide mobile home before it damaged neighboring properties Saturday night.
Crews from the Northern Arizona Consolidated Fire District and the Kingman Fire Department responded to property in the 4300 block of Van Nuys Road at about 7 p.m.
A travel trailer and an abandoned mobile home were burning heavily. The fire had spread to the eaves and roofing shingles of one neighbor's home and also spread to a wooden fence.
The home on the other side sustained significant radiant heat damage, according to Northern Arizona Consolidated Chief Patrick Moore.
The occupants in the three residences were safely evacuated and no injuries were reported.
Moore said crews protected the neighboring homes from further damage, caused in large part by a mountain of household trash that had been piled in the yard.
"Once the fire was extinguished, an extensive overhaul operation was completed due to extreme hoarding of domestic garbage left in the yard (where the fire started)."
The fire has been deemed suspicious and an investigation is under way, said Moore.