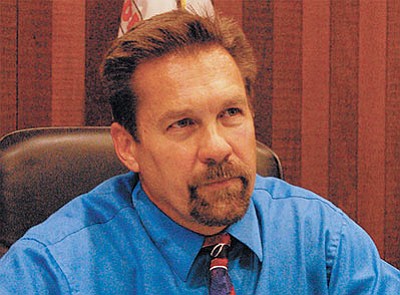 Originally Published: January 28, 2016 6:02 a.m.
KINGMAN - Kingman was not among 15 American cities to make the semifinals in the America's Best Communities competition. That doesn't mean good things didn't result from the effort, according to Mark Abram, and he wants to keep the momentum going.
Kingman was named a quarterfinalist last April, becoming one of 50 cities out of 350 that entered the competition to make the cut. The local effort paid dividends, according to City Councilman Abram. Abram is the general manager of Frontier Communications, one of the companies sponsoring the competition.
"It's sad we didn't make it to the next step," said Abram, perhaps the Council's most vocal advocate for Kingman in the competition. "We accomplished lots of good things.
"The judges felt our plans were strong and I see a lot of good things going on in this town. We got a lot of accolades for our plan and I think it's important that we look at this as a win and carry things forward."
Abram also said Chamber of Commerce CEO Yvonne Woytovich, who led the effort in Kingman, did a great job fostering collaboration.
"That was our biggest accomplishment," he said. "We put together a collaborative effort that is improving our economy, tourism and our healthy lifestyle."
The buy-in from both public and private entities, he said, has to keep going at a "highly involved" level to make "a healthy and vibrant Kingman," said Abram.
Kingman and the 49 other quarterfinalists were given $50,000 in seed money to develop a community revitalization plan. They were paired with a major corporation, which served as a strategic advisor. In addition to Frontier Communications, other sponsors include DISH Network, CoBank and The Weather Channel.
The cities with the best plans - that also were being effectively executed - reached the semifinal round. The idea behind the competition is to invest in new solutions to revitalize rural and suburban America.
Lake Havasu City made the cut, the only other city in Arizona that competed, and will now make a push for the first place prize of $3 million.
In addition to Lake Havasu City, the other semifinalists are: Charleston, W.Va.; Huntington, W.Va.; Statesboro, Ga.; Portsmouth, Ohio; DeKalb, Ill.; Fort Dodge, Iowa, Darrington/Arrington Wash.; Wenatchee/East Wenatchee, Wash.; Tualatin, Ore.; Valley County/Meadows Valley, Idaho; Chisago Lakes Area, Minn.; and the Indiana cities of Valparaiso, Madison and Angola/Fremont.
The 15 will attend the America's Best Cities Summit in North Carolina in April. Eight finalists will be named at the end of the summit and each of them will be given $100,000 to bring the plans to fruition.
In April 2017, the top three will be selected as grand prize winners, with first place getting $3 million, second place $2 million, and $1 million for third place.
Chamber CEO Woytovich was not available for an interview.