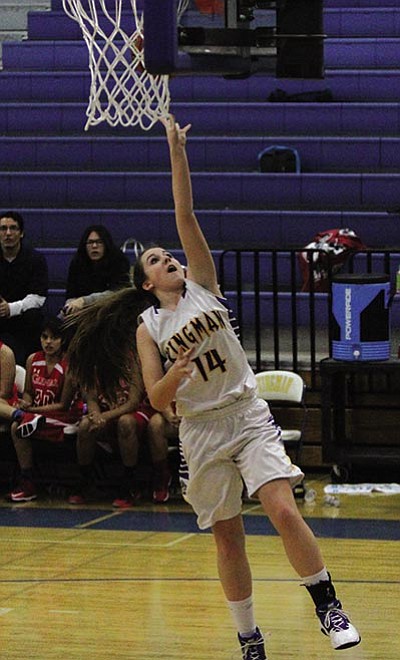 Originally Published: January 31, 2016 5:59 a.m.
KINGMAN - The Lady Bulldogs' full-court press accounted for 10 steals and forced Glendale into a ton of turnovers as Kingman won its 20th overall game of the season Friday at KHS, 75-31.
"We're really confident," said senior point guard Makenna Taylor. "I like how we're playing together - our cohesion."
The Division III No. 6 Lady Bulldogs are 20-3 overall, and 14-0 in the regular season. Tournament games are not counted in the division rankings.
It was good night of work for Kingman. The Lady Bulldogs led 23-8 after the first quarter and 46-20 at half. They finished hunting the Cardinals with a 25-5 third quarter.
"I'm absolutely satisfied," said KHS girls basketball coach Danny Gonzalez. "We shot 70 percent from the free-throw line. We've been working on free throws because the other day we shot 30-some and only made 20. In a closer game, you're in trouble."
Taylor finished with 18 points for Kingman. She also had six assists and a steal. Desirae Gonzalez led the Lady Bulldogs with 36 points and 10 rebounds, her 16th double-double of the season. Gonzalez also dished out six assists and came up with four steals.
Kingman ends the season this upcoming week with three games. The Lady Bulldogs host Lake Havasu (7-7) on Monday and Lee Williams (7-8) on Friday. Sandwiched in between is No. 15 Buckeye (11-3, 3-0) on Wednesday at Buckeye with the No. 1 seed for the Section VI tournament on the line. All three games tip off at 5:30 p.m.
"We're going to prepare and work hard to get ready," Taylor said. "We have to get stops on defense and convert them to our offense. That's what we need to work on and get going."
Now that the regular season is winding down and postseason thoughts are creeping in, the Lady Bulldogs' coach says his team is in a good place.
"We went back and thought about some of the bad things that have happened since the beginning of the season and then thought about the good things," Gonzalez said. "I know the good things are going to outweigh the bad."
Kim Carroll scored eight points for the Lady Bulldogs. Courtney Mossor contributed seven, and Keara Tauta, Cheri Roundy and Christina Thames each had two.
It's been a rewarding season for Kingman, but the Lady Bulldogs are not about to rest on their laurels.
"We're doing something pretty positive right now," the coach said. "We can continue to work hard and see where that gets us, or we can be complacent. I trust them to continue to work hard."