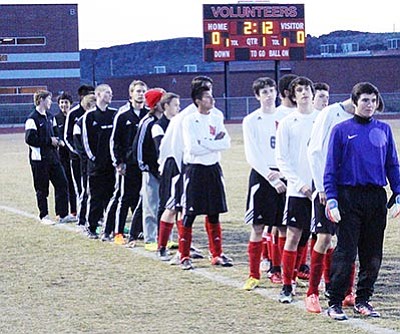 Originally Published: January 31, 2016 6 a.m.
KINGMAN - The athletics office exploded with cheers at approximately 2:15 p.m. Friday at Lee Williams High School. That noise came from the Volunteers boys soccer team after it saw that they had the No. 15 seed for the Division IV State Championship while watching the AIA's Selection Show on azpreps365.com.
"We were thinking that if we made it, it would so cool," said senior defender Trey Fitzsimmons. "We were also thinking how upsetting it was going to be if we didn't. When it showed up we all got excited, the team got excited and we had a good time after that. We're ready for state."
There were no assurances that Lee Williams (6-5-1) would get in. The Vols were right around the 15th spot throughout the final week of the regular season. The tournament consists of five section champions and 11 at-large teams. Apache Junction won its section and was ranked 20th, so it jumped up to No. 16.
Had the Vols finished 16th, they would have been bounced out of the tournament. And losing its final two matches of the season didn't make things easier for them.
Lee Williams fell to Kingman in overtime on Monday in a match continued from November, 6-4. The Bulldogs (4-7) finished No. 18, and the Vols' loss appeared to put postseason dreams aside.
"We didn't have the drive we usually do," said LWHS senior defender Brandon Sahawneh. "We stayed positive and then made Buckeye work for it. I wasn't at all concerned about the rankings. We had played better opponents, so I wasn't worried about it."
Though beating Section I champion and fifth-seeded Buckeye (10-2, 7-0) on their home pitch seemed to be a stretch on Wednesday, Lee Williams gave it all it had in a 5-0 loss in what might have been the last game of the season and career for the Vols' first class of seniors.
"There was the question in my mind that it might have been our last game," said senior midfielder Kyle Henson. "We all played Buckeye with all our heart and left everything we had on the field. I think us having a positive attitude kept us going."
Four seasons ago, Lee Williams was a freshman coed team that got pummeled by JV boys teams. Now, the Vols are state tournament qualifiers. Along with these three Vols, Travis Keefe and Jimmy Childs have been on the squad since the program's inception.
"It was all about learning," said fourth-year boys soccer coach Ray Tapia. "I love the one thing that keeps coming out these guys's mouths, and that's the word 'positive.' Sometimes, it was the only thing we had to cling on to these past four years."
Pueblo Magnet won the Section II title with a perfect 7-0 record. The Warriors went 10-2 overall and are heavy favorites to advance past Lee Williams into the quarterfinals.
"At this point for us, it's the excitement of getting to this level of play and the culmination of all we worked towards over the past four years," Tapia said. "I just want them to go and enjoy this experience and have fun."
More like this story