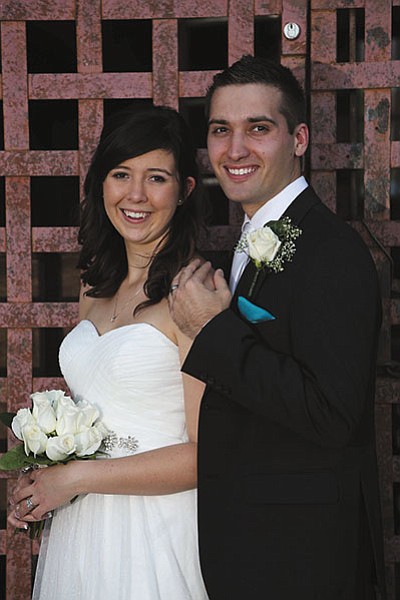 Originally Published: January 31, 2016 6 a.m.
Corbin Watson of Kingman and Britannie Boss of Page were married in Nelson, Nev., at 4:30 p.m. on Oct. 10. A reception of the couple was held at the Hoover Dam Lodge following the wedding ceremony.
Britannie is the daughter of Barry and Marianne Boss of Page, and Corbin is the son of Lyman and Shelly Watson of Kingman.
Abbie Boss, sister of the bride, and Bailey Houston, best friend of the bride, were Britannie's bridesmaids. They both wore teal floor-length dresses from David's Bridal.
Andy Boss, brother of the bride, and Seancraig May, friend of the groom, were Corbin's groomsmen.
Britannie and Corbin were surrounded by many family and friends who love them very much.
Corbin is currently an accounting specialist for Peterson Burge Enterprises and has been with the company for the last five years. Britannie finished her bachelor's degree in speech therapy and is currently working in that field.
The couple took their honeymoon in California, enjoying the beach and Halloween horror nights at Universal Studios. They will both continue to reside in Kingman.