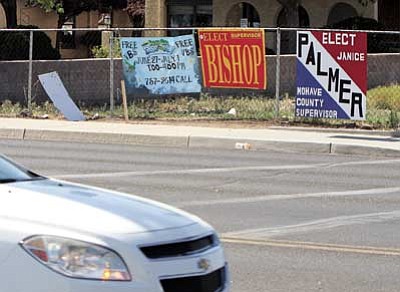 Originally Published: July 3, 2016 6 a.m.
KINGMAN - It's that time of the election year where campaign signs start to sprout like weeds.
July 1 is the first day political signs, flyers and posters that will pock-mark the landscape now through the 2016 General Election November 8 can be put up and distributed without interference from state or local governments.
Arizona Revised Statute 16-1019 states that cities, counties, and other municipalities in Arizona may not remove political signs, provided they are erected within the period spanning 60 days before the primary election and 15 days after the general election and meet certain conditions.
It's a class 2 misdemeanor for any person to knowingly remove, alter, deface or cover any political sign of any candidate for public office, or knowingly remove, alter or deface any political mailers, handouts, flyers or other printed materials of a candidate that are delivered by hand to a residence.
Here are some guidelines for posting the signs and distributing flyers. They cannot be tampered with as long as they meet the following conditions:
• The sign is placed in a public right-of-way that is owned or controlled by that jurisdiction.
• The sign supports or opposes a candidate for public office or it supports or opposes a ballot measure.
• The sign is not placed in a location that is hazardous to public safety, obstructs clear vision in the area or interferes with the requirements of the Americans with disabilities act (42 United States Code sections 12101 through 12213 and 47 United States Code sections 225 and 611).
• The sign has a maximum area of 16 square feet, if the sign is located in an area zoned for residential use, or a maximum area of 32 square feet if the sign is located in any other area.
• The sign contains the name and telephone number or website address of the candidate or campaign committee contact person.
There are exceptions to those guidelines.
Home owners associations have their own say in what can be posted and where.
They not apply to commercial tourism, commercial resort and hotel sign-free zones as those zones are designated by municipalities. They do not apply to state highways or routes, or overpasses over those state highways or routes.
A candidate in the primary election who does not advance to the general election must take their sings down within 15 days.
"Every city and county has their own rules and regulations," said Mohave County Elections Director Allen Tempert. "The elections guy has to stay out of it. We inform our candidates to contact planning and zoning and refer candidates to local ordinances."
To view the statute go to http://www.azleg.gov/ars/16/01019.htm.
The primary election is Aug. 30. The general election is Nov. 8.