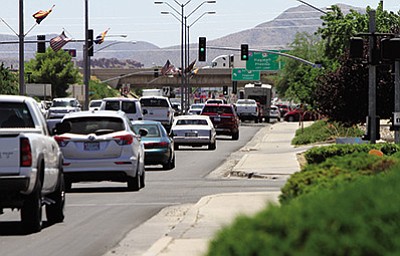 Originally Published: July 10, 2016 5:45 a.m.
Given how well Arizona has managed its water supply to this point, with reservoirs, canals and whatnot, it's almost shocking to learn that there is little to no official control over how much is used and who uses it.
That's the situation Mohave County finds itself in, as more and more baked, sand-colored dirt is giving way to green farming landscapes and center pivot irrigation systems. The aquifer, which seemed largely immune to human consumption as long as vast tracts weren't being irrigated, is now dropping at an alarming pace.
Something needs to be done.
There are reports that one "farmer" who has sunk dozens of wells in Golden Valley and elsewhere in west-central Mohave County has put at least some of his holdings on the market. If those properties are sold to agribusiness, who in this state has the power to put them out of business?
The answer seems to be no-one. That's probably a good thing. If the state can march in and confiscate hundreds of acres of private property, we're on a slope that's beyond slippery.
Gov. Doug Ducey's Arizona Water Initiative has already made a stop in Kingman and, while here, delivered the scary water supply news.
But it's not all bad.
If farming operations invest heavily in Mohave County, they stand to lose big-time on the investment if there's no water for crops. That's a strong incentive to be as efficient as possible, or to have a different land use. Selling big chunks of land is difficult simply because most people can't afford it. It becomes impossible to sell when the land can't be used for anything because there's no water.
Some folks are pushing for the state to create a management area, and who can blame them? Before that, however, people who rely on water for their livelihood - well drillers, for one - should be asked for their input. They certainly know what's going on with water levels.
Remember, just like farmers, there's no future for well drillers if there is no water to drill for.
Folks around here have worried about water supply for years. Those concerns are obviously justified.
We need to find a solution that works, if not for everybody, then for most of us.
•••
Here's something that may be news to you: According to Howard Fischer of Capitol Media Services, petitions containing 281,087 signatures were submitted Thursday to the secretary of state's office to limit the total compensation for any hospital executive, manager or administrator to no more than what the president of the United States is paid. That is currently $450,000 a year.
The Service Employees International Union is behind the petition. There's a back story in there somewhere, but trust me on this: SEIU didn't utter a peep when the federal government paid hundreds of millions of taxpayer dollars for the Obamacare website that constantly crashed and took hours to wade through.
•••
Alert readers noticed earlier in this column the reference to Golden Valley (and thus Kingman) being in west-central Mohave County. That verbiage was chosen rather than the more common "northern Mohave County" or "northwest Arizona," and there's a good reason for it.
Look at a map. It's almost as if we regard the northern border as 70 miles away, at Hoover Dam, rather than the real northern border, which is the state line.
It's almost as if we were subconsciously removing Colorado City from the county.
Well, maybe not subconsciously.
•••
They hadn't even washed the blood off the sidewalks when a certain wire service was laying the blame for the shooting of a congresswoman at the feet of Sarah Palin.
Palin, you see, wanted to put Gabrielle Giffords in the "crosshairs," at least in terms of targeting her seat in Congress in an effort to have a Republican take her place. The wire service reporter took "crosshairs" literally and ran with it.
So it was a bit of a surprise, after five Dallas law enforcement officers were gunned down Thursday, that there was no hint of blaming President Obama. You know, the guy who talks in public about "racist cops" and "cops acting stupidly."
Both scenarios are ridiculous. Predictably, only Republicans merit that kind of creative (idiotic?) journalism.