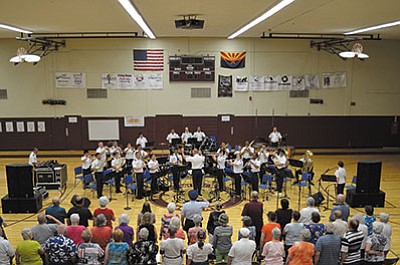 Originally Published: July 13, 2016 6 a.m.
The Kingman Middle School gymnasium was home to different music styles Monday evening.
The 300th Army Band, a 40-member Army Reserve instrumental ensemble out of Bell, Calif., spends its two-week annual training period touring the Southwest.
The band played the usual big-band era and patriotic numbers, but branched into modern territory starting with a string and vocal performance of Tim McGraw's 2007 war ballad "If You're Reading This." The band followed up with perkier numbers including a ska version of the Dexys Midnight Runners 1982 single "Come on Eileen."
The event was free, open to the public and sponsored by Sounds of Kingman and Kingman Middle School.
Other stops along the tour included Los Angeles, San Diego, Phoenix, Flagstaff and Las Vegas.
The band performs at military ceremonies, school assemblies, education outreach, festivals, radio and television appearances.