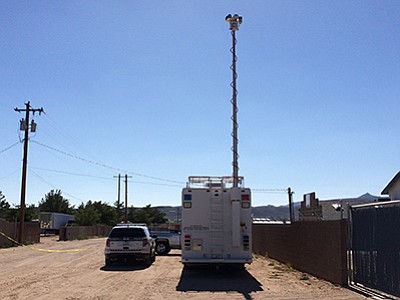 Originally Published: July 14, 2016 5:23 p.m.
KINGMAN - The Zuni Village RV Park on Airway Avenue has been evacuated due to an investigation involving possible explosive materials in relation to explosions in Panaca, Nev., around 8 p.m. last night.
Panaca is about 170 miles north of Las Vegas.
A Kingman Police Department Explosive Ordinance Detail arrived on scene around 11:20 a.m. Thursday. They are currently searching an RV and treating it as a hazardous situation until further notice.
Deputy Police Chief Rusty Cooper said there is nobody currently in the RV but that someone has been recently staying there. KPD is working with Nevada authorities to determine possible Kingman ties. Cooper said a person killed in Wednesday's explosions lived in a motorhome in the Kingman park.
The KPD bomb squad continues to look for possible explosives in the motorhome.
Cooper asks drivers and pedestrians to avoid the area until further notice. An investigation is underway.