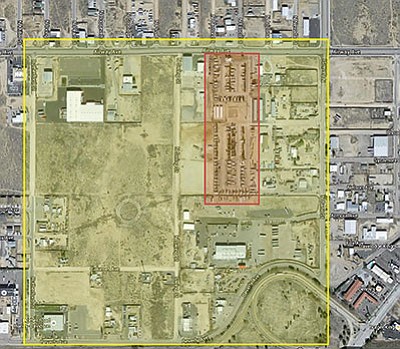 Originally Published: July 15, 2016 2 p.m.
KINGMAN - The "extremely dangerous" situation has prompted the Kingman Police department to announce a voluntary evacuation of a large section of Kingman surrounding the Zuni RV Park on Airway Avenue.
Deputy Police Chief Rusty Cooper said the area includes anyone living or working within Airway to the north, Rutherford Street to the west, Bank Street to the east and Beverly Avenue to the south.
Cooper said the KPD's bomb squad is being assisted by the same squad at the Bullhead City Police, officers with the Department of Public Safety and the FBI.
"The evacuations are due to the extremely dangerous and volatile situation created by the presence of IEDs," said Cooper. IEDs (improvised explosive devices) and material to make them was found in Glenn Jones' motor home and officers have not yet opened a storage unit he rented at the park.
Cooper said Jones' car, a 2007 Saturn, was found Thursday night in the Avis Car Rental on Stockton Hill Road. Part of an IED device was in the car, which Cooper said was "rendered safe" at about 6 a.m. this morning.
More like this story