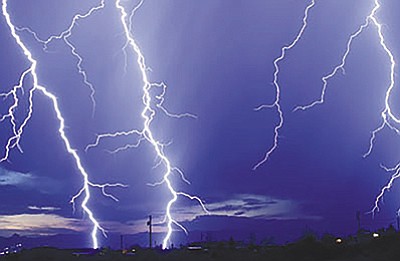 Originally Published: July 15, 2016 5:45 a.m.
KINGMAN - Gusty winds today and Saturday will elevate the danger of wildfires before those same winds usher in monsoon moisture early next week.
The Las Vegas office of the National Weather Service on Thursday reported it has "high confidence" the winds will increase fire danger, but widespread red flag conditions are not expected. Localized red flag conditions could occur, such as near ridgetops or other areas exposed to wind.
The gusty winds could also pick up dust, particularly in desert areas recently cleared for farming, such the Red Lakes region and north of Kingman off of Route 66 between the city and Valle Vista.
The chance of fire will give way to the chance of floods by Sunday - especially in Northwest Arizona, according to the service. The chances for precipitation expanding to a broader region will increase as the week progresses.