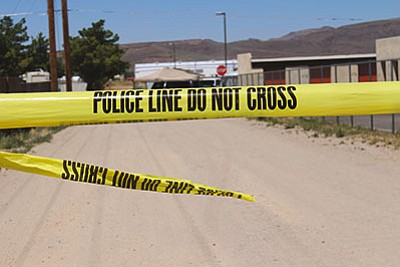 Originally Published: July 17, 2016 6 a.m.
KINGMAN - The evacuation of the Zuni RV Park ended Friday night after law enforcement officers removed 15 improvised explosive devices - homemade bombs - from a motorhome linked to Glenn Franklin Jones, who died Wednesday when he allegedly blew up the home and car of an ex-employer in Panaca, Nev.
Kingman Deputy Police Chief Rusty Cooper said the FBI has taken over the case, but the KPD will continue to assist.
Cooper said the devices were of different sizes and designs. Ten were rendered safe in a vacant field just west of the Airway Avenue RV park. Five larger ones will be detonated at an undisclosed location.
The incident gained national attention and a huge response. Cooper said the KPD and FBI were joined by the Bullhead City Police bomb squad and Lake Havasu City department, the Mohave County Sheriff's office, state Department of Public Safety and the city's Public Works Department.
The Red Cross opened a shelter at the Kingman High gymnasium for those who were evacuated. It has since been closed.
No injuries were reported. Jones was the only fatality in the Nevada explosions.
From the beginning
The search of the motor home rented by Glenn Franklin Jones, 59, began Thursday.
"He was quiet and kept to himself," said Glen Starkloff, who lived next to Jones for the past three months.
"He didn't really have a lot to say. I said 'hi' to him once. He didn't even say 'hi', back."
A Kingman Police Department Explosive Ordnance Detail arrived on scene around 11:20 a.m. Thursday. They worked with FBI and DPS explosive ordnance disposal teams.
EOD teams found numerous improvised explosive devices and device making materials, first in the motor home. After it was cleared, law enforcement also had to look at a storage space Jones rented at the park.
Residents, meanwhile, were subject to a mandatory evacuation, though some were allowed back in their motor homes to retrieve medication.
Starkloff was allowed to retrieve the family cat, Multimillions. He said the officer who escorted him to his travel trailer said they found 40 pounds of explosives.
"They said it would have vaporized my trailer if it went off," said Starkloff.
For a while it appeared as if some nearby neighborhoods and businesses would also have to be evacuated.
Lesly Livingston, who served as the Red Cross shelter manager at the high school, said nine of the park's residents checked in. Six of them slept in the gymnasium Thursday night.
"We've got food and showers," said Livingston. "Even if they just want to cool off, they can come here. It's going to be hot. We've got water."
According to the Las Vegas Review-Journal, Jones blew up a home and a vehicle parked in front of it, ostensibly over a grudge he had against a former employer. Jones reportedly warned the ex-employer's wife and three children to leave the home just minutes before the explosions.
More like this story