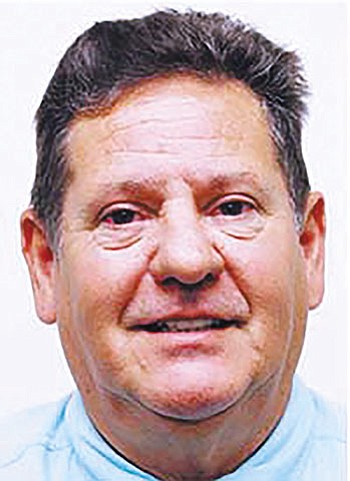 Originally Published: July 20, 2016 6 a.m.
Note: This is the third of four profiles of candidates for Kingman mayor. The Miner will offer a profile of Harley Pettit on Thursday. Mayor Richard Anderson was profiled Monday and Monica Gates was profiled Tuesday.
KINGMAN - City Council elections are supposed to be nonpartisan, but Joseph "Joe" Longoria, a regular attendee at Council meetings and a prominent Mohave County Democrat, knows that a successful campaign for mayor is going to require a lot of work.
"I know as a Democrat it will be an uphill battle," he said. Mayor Richard Anderson can be credited with Longoria's decision to run for mayor - after running for the state House of Representatives two years ago.
"The mayor said he was running unopposed," said Longoria. "He asked me to sign his petition, and I got to thinking somebody needs to run to keep things honest."
So what if Longoria climbs that hill and gets elected? The Kingman High graduate - class of 1972 - said more than 30 years have passed since a local high school graduate was mayor.
He's the only mayoral candidate to be one, but three Council candidates - Travis Lingenfelter and Jamie Scott Stehly, class of 1994 and Gary Rucker, like Longoria, graduated in '72.
"Gary and I had a lot of fun in high school," said Longoria.
The retired flooring contractor envisions a Kingman that grows responsibly, attracts a few big city amenities, "but retains its small town feel."
He supports the proposed Kingman Crossing plan.
"I do believe this would be a good, positive addition to Kingman. It would bring us more choices in retail shopping and restaurants." That in turn, he said, would keep residents from traveling elsewhere to shop, something the city must do since it relies almost exclusively on sales tax revenue to fill the general fund coffers.
The plan calls for the construction of a fourth traffic interchange along Interstate 40 - this one between Andy Devine Avenue and Rattlesnake Wash.
Longoria also supports Rattlesnake Wash as the city's fifth interchange because it would provide a more direct route to the Kingman Airport and Industrial Park.
"The airport is where the true wealth of jobs will come from. This is the job creator for our city and we have to take advantage," said Longoria.
"There seems to be an antagonistic relationship between the city and the (Kingman) Airport Authority."
There is, but there also is antagonism over the subject on the current Council.
"We need to build up that relationship," said Longoria. "Why does it have to be us versus them? We need a relationship that benefits both sides."
And that is the problem for some on the Council. The city owns the land and the authority manages the property, but the contract does not feature any performance standards for the authority to meet and the contract does not expire for more than three decades.
"We need to build a bridge between the two and think how to best use this $200 million asset."
Downtown is another asset Longoria wants to see prosper.
"I think Kingman suffers from an identity crisis. Flagstaff and Williams have vibrant downtowns that Kingman doesn't have.
"What did they do that we're not doing? We have to learn how to take advantage of Route 66 and the historic district."
Longoria agrees downtown has come a long ways in recent years, but more can be done.
"There's so much potential we're not realizing. We need to attract residents to go down there, too, not just tourists. Downtown has a lot to offer."
Longoria said there are plenty of investors, the problem is the hurdles the city puts in the way for them to remodel old buildings before they open for business.
"There's too much bureaucracy and red tape," he said. "We should create a downtown development district and put in some multiuse zoning. We can build apartments above businesses and get people living downtown."
Of course, Longoria also has concerns over the suddenly vital discussion over the region's water supply and future demand. He believes the cities of Mohave County need to assist the board of supervisors in getting the state's attention.
"We need to work with the board and get legislation," he said. "Anything we can do to save water has to be done legislatively. We need to work with our lawmakers and we need to make sure they are really listening to us."
Longoria said if elected he would hold town hall meetings every other month "so I can keep current on what people want. What they're thinking. I consider myself a local boy and I'm from and for Kingman."
More like this story