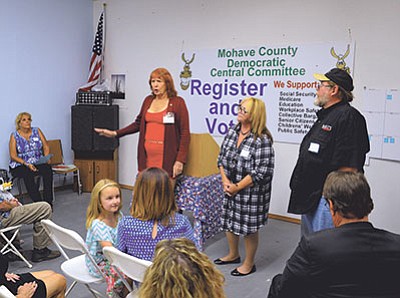 Originally Published: July 21, 2016 6:02 a.m.
KINGMAN - In a county brimming with Republican candidates and Republican clubs, Democrats and independents had a chance to reach out to voters Tuesday.
The Democratic Women's Club hosted a forum - its first - with Democrat, Republican and Independent incumbents and challengers running for state, county and city offices addressing the audience.
The monthly Mohave Republican Forum invites and introduces all candidates, but only allows Republicans to speak, which has become a sore spot for City Council candidates since that election is officially nonpartisan.
Club President Marty Luna-Wolfe took a different approach.
"Our purpose was not to just have a forum but to make sure everyone had an opportunity to meet and hear all the candidates," she said. "We want to hear from everybody."
Husband and wife candidates
Golden Valley Democrat Mikel Weisser is running against incumbent Republican Paul Gosar for the Congressional District 4 U.S House of Representatives seat. His wife Beth, also a Democrat, is a candidate for Arizona House, District 5 and possibly the Kingman Unified School District board should she gain enough signatures by Aug. 10.
Both are active with the National Organization for Reform of Marijuana Laws. Mikel is the state director and Beth the secretary and treasurer, a volunteer position.
Mikel has a master's degree in secondary education from Northern Arizona University. He's been using that degree to try to reform education and immigration laws, and legalize marijuana.
"We need to change the direction of our country," he said. "We need to build schools, roads and stop throwing people in prison and make some progress in this country instead of just somebody's profit."
Beth, a retired Kingman Unified School District teacher, wants to tackle education and criminal justice. She said the statistics aren't good in this district for anyone but a Republican to win and that candidates are forced to run as a Republican in order to gain any political clout.
She plans to take the independent progressive values she said Arizona was founded on to the state Legislature. Both Weissers are passionate about reforming marijuana laws they say only help private prisons profit.
"We can't be helping families when we keep sending marijuana possession (offenders) to jail," she said. "That's here. This is daily. This is a real problem."
"(I want) what's fair for the people and what's going to help our society move forward. I will look at things with compassion."
Longoria's bid
Democrat Joe Longoria made his case for the non-partisan mayoral position. Longoria said the divisiveness that has accented the presidential campaigns has crept into local elections. He referenced a statement made earlier in the forum by Mohave County Sheriff candidate John Gillette to prove his point.
Gillette had asked the crowd if they thought law enforcement agencies needed cultural sensitivity training to deal with the recent racially charged shootings throughout the country. Some candidates raised their hand in agreement.
Gillette disagreed by saying training was unnecessary because law enforcement agencies are constitutionally bound to treat everyone equally. He was met with groans of disapproval from some Democrats in the audience and Longoria called him out on it.
"It's fine to say it's in the Constitution that police are supposed to act that way," he said. "But the problem is that there are some in those departments that don't act that way. There's a need to address those issues."
Supervisor
Incumbent Supervisor Gary Watson was not present, but his three challengers were. They include two Democrats, Janice Palmer and Denise Bensusan, and Republican Jeffery Jolly.
Bensusan said she's not taking money from anyone to run her campaign. Water and government transparency were her top concerns.
"We got a water problem that isn't being handled, needs to be handled and can be handled, but the government that be is not handling it," she said. "So we'll handle that."
She's tired of what she called the lack of transparency on the board and wants to know who is negotiating with them when making decisions.
"The public's business is supposed to be done in the public."
Palmer, a retired U.S. Marine, said her biggest concerns are low-income residents, veterans and senior citizens.
"I'll fight anybody at any time for any cause," she said. "You remember that and pass the word."
City Council
Jamie Scott-Stehly and Gary Rucker, both running as independents, discussed raising the standard of living in Mohave County.
Stehly mentioned her family was an inspiration to give back to the community. She wants see that her kids go to college, come back and find good jobs in a town with a decent quality of life.
"I'm so concerned Kingman has been fed so many excuses over the years that we believe the status quo is all we're ever going to get," she said. "That concerns me that our town has lost hope."
She pointed to a younger, more energetic group of candidates willing to take the lead.
"I believe there is a fantastic group of people who are driven and will really make a difference."
Rucker said the city of Kingman and the Kingman Airport Authority need to work together to get jobs going in this town.
"(We've got) a lot of bad characters that are doing stuff and we're not doing anything about it," he said.
He admitted to being a one issue candidate by saying he wants to focus on the best investments and concentrate on the asset that will make Kingman's economy strong.
"We already own the airport but it's being run by schoolyard bullies," he said. "It's not going to get any better until we take it back and repossess it."
The forum worked
Luna-Wolf wasn't expecting a large turnout, but was highly satisfied with the results. The club has already been asked to hold another forum, possibly after the primary election.