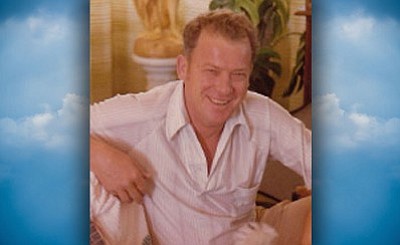 Originally Published: July 22, 2016 12:55 p.m.
James (Jim) Hallam was born May 20, 1932 in Marcus, Washington and passed away peacefully at this home of 24 years in Golden Valley, Arizona on July 12, 2016 after a long illness.
Jim proudly served his country In the Navy reserves for eight years and retired from the Las Vegas Metropolitan Police Department (detective) in 1988 after 20 years of outstanding service.
Jim loved his family and friends and will be greatly missed for his wonderful smile, sense of humor, love of music and all animals great and small.
He is survived by his wife and love of his life, LaVerne of 64 years; two daughters, Terrie Peppard of Las Vegas, Nev. and Paula Spendlove of Golden Valley, Ariz.; three grand children, Gale Spendlove of Kingman, Az., Louie Spendlove of Golden Valley, Ariz., and Erin Spendlove of Golden Valley, Ariz.
The family wants to thank the Joan and Diane Hospice house for their loving care with a special thanks to RN Lenora, and Kathy Oller.
More like this story