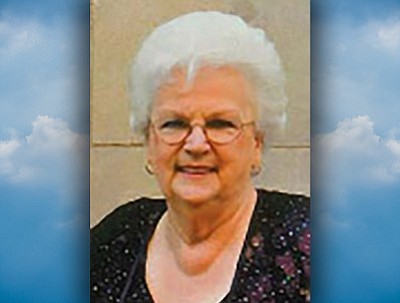 Originally Published: July 22, 2016 1:02 p.m.
Kathryn Lee Van Brunt, 79, passed away on June 21, 2016 in Kingman, Ariz.
Kathryn was born July 23, 1936 in Outlook, Wash. to August Wilhelm Ferinand Quitmeyer and Leaurice Lorraine Taylor. She was a beloved wife, mother, grandmother, great-grandmother, sister, aunt, niece, and friend.
She grew up in Washington and moved to Kingman, Ariz. in 1970 with her husband and two daughters. While raising her family in Kingman she enjoyed sewing, cooking, working in human resources and administrative services, traveling, visiting with friends, her roses, anything purple, a good crossword puzzle, playing cards, singing in the choir, bowling, her membership in the Red Hats and auxiliaries for the American Legion and VFW. She loved her grandchildren and great-grandchildren very much.
Mom was always quick to share a smile, give a hug, lend a hand, give comfort when needed, right your wrongs or be a listening ear. We will miss her laughter and funny wit. She is no doubt keeping them laughing in heaven and happy to be with her parents and brother, Harley August Quitmeyer.
She is survived by her husband, Donald Whitman Van Brunt; daughters; Sonoma Leaurice Van Brunt-Leyhe (Bill) and Arbutus Illene Lewis (Larry); grandchildren Austin Atwood, Dakota Atwood, Amy Yuriar (Eric), Whitman Atwood and Kathryn Browman; great-grandchildren Shade Atwood, Michael Atwood and Mason Atwood; and niece Karen Quitmeyer.