Originally Published: July 31, 2016 6 a.m.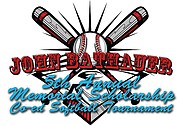 KINGMAN - After giving out $3,500 in college scholarship money to four deserving high school seniors in the spring, the Fifth Annual John Bathauer Memorial Scholarship Coed Softball Tournament takes to the Centennial Park fields next Saturday and Sunday so it can do it again.
It's going to be the first time John's youngest children, 15-year-old twin boys Matt and Mike, are old enough to participate in the tournament.
"It means a lot," Matt said. "I wanted to play when I was little, but they just didn't let me. It's a great opportunity for Mike and me to experience the love during all the games."
"It's an honor for me," Mike said. "I've been waiting four years for the opportunity to play. I honestly feel humble playing and honoring my dad. I know how much he loved baseball and softball, and how much he gave back to the community."
The fourth annual tournament had 28 teams and tournament organizers are hoping to reach 30 this weekend. To register a team, contact Fran Meins at 928-303-0274 or Tee Acuna at 928-377-0778. Entry is $225 per team and the deadline is Wednesday. All proceeds come back to the community.
The tournament has moved to a two-day event so all the games can be played on Fields 1-4, rather having to use the other three fields on the north side of park, thus making everyone feel included. Whether it's 28 or 30 teams, that's a lot of players who are there to not only play softball and raise money for the community. They are there to remember and honor John, as well.
"It just makes me happy," said John's daughter, Jenny Stout. "He would have loved everybody being together playing the sport he loved and having a good time."
John was survived by six children, including Joshua Bathauer, Jessica York and Alexis Bathauer.
John Bathauer was about selflessness, which is what this tournament is about. From the college scholarships to park benches and awnings, raising this money is about giving it back. John, along with his widow, Anne, were just as passionate about education together, so the giving is about scholarships to those students who have overcome adversity to reach their academic goals.
The most recent recipients of the scholarship were Mariah Sammeli (Kingman High), Vanessa Adams (Kingman Academy), Tristen Pitts (Kingman Academy), and Sean Roby (Lee Williams).
"It makes me happy we can keep having this tourney and giving back to the kids," Anne said. "It keeps getting bigger and bigger."
Anne said she's hopeful to not only hand out another set of scholarships, but that the fund can replenish the scholarships it dispersed in the past.
It's all for a good cause and good memories.
"Everything that comes in goes back to the community," John's sister, Fran Meins said. "It's a way to remember and help John continue helping the community."