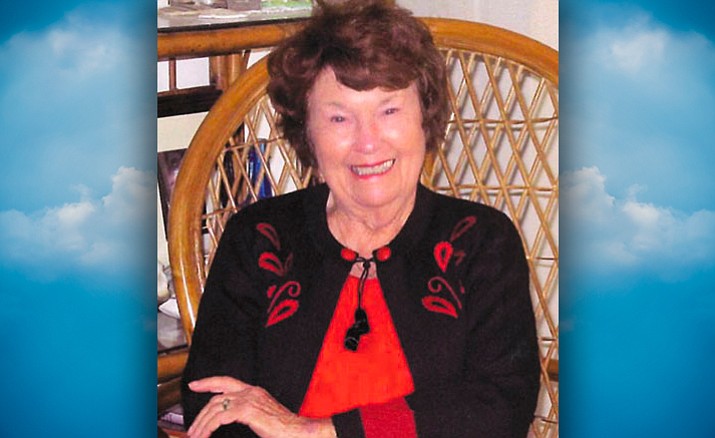 Originally Published: July 31, 2016 6 a.m.
Our beloved mother, Evelyn Rae Price, entered the world on Sept. 3, 1922, in Joplin, Mo. She departed Earth for her next adventure on July 19, 2016, at the age of 93.
She was the first child of Helen Marie Fox and Dewey Fox. In writing about her childhood, she said, "I had a sweet, enjoyable childhood at Joplin, Missouri, with my father, mother, and little sister." She had lasting and loving memories of growing up close to aunts, uncles, and cousins.
When she was 13, she and her sister moved to Las Vegas with their mother. They finally settled in Mohave County, living for a time in Valentine and finally in Kingman. She graduated from Mohave County Union High School in 1940.
Our mother was a quiet, introspective person who listened then responded with thoughtful words of wisdom. She was an astute observer of life. In her senior yearbook, one of her teachers wrote. "They say still waters run deep, do they?" That teacher saw early on who our mother was.
After high school, she worked at Producer's Mine, where she met our father, Michael A. Price. They married on Dec. 5, 1944, in Kingman, then moved to El Centro, Calif., where our father was stationed with the Marines. They lived many different places in the Western United States before returning to Kingman, but the place she always cherished the most was Bishop, Calif.
She earned a certificate as a Registered Health Information Technician from American Health Information Management Association and for several years worked in the medical records department of Mohave County Hospital. Later, she worked for 18 years as an administrative assistant in the Mohave County Engineer's office until she retired Sept. 30, 1988.
When she was 35, we lived in the small town of Green River, Utah, where she took an oil painting class and then painted for the rest of her life. She finished her last painting just a short time before her death.
She began playing golf in her 50s and became an avid golfer and fan. When she no longer played herself, she watched all the major golf tournaments and knew the names of every player. She felt that golf was the last sport in which civility and good manners were practiced.
Our mother loved every day of life - she felt each one was a gift, and she approached her days that way. Her life was one of simple pleasures: having her morning tea on the porch, watching the sun rise and the quail come in, reading and learning, contemplating the night sky, and in the morning, easing into a day joyfully with her simple faith in God. She enjoyed spending time with her children, grandchildren and great grandchildren, and she loved to have fun and laugh, bringing us all joy. She had a strong desire to live independently in her own home, which she treasured as her true blessing.
We, her loving daughters, Diana Marie DuVall, Michele Victoria Price, and Laura Lynn Oswalt, will miss her all the days of our lives, as will her grandchildren - John M. Ware (wife Tanya), Shannon Marie DuVall, Sandra Christine Oswalt (husband Wayne), Allison Marie Oswalt, and Steven Charles Oswalt (wife Alicia); her great grandchildren: Ashton Ware, Robert Walter Ware, Steven Michael Oswalt, Roy Oswalt, and a new great-granddaughter, Scarlett Evelyn Majors, born on July 23, 2016. Our dear mother, Evelyn Rae Price, lives on in all of us who love her.
She was predeceased by her father, Dewey Fox and mother, Helen Marie Templeman, her step-father Melville Templeman, her sister, Norma Jean Rucker, and her brother, David Warren Hall.
Lietz-Fraze Funeral Home and Crematory handled arrangements. Thoughts and condolences may be submitted to the family at www.lietz-frazefuneralhome.com.