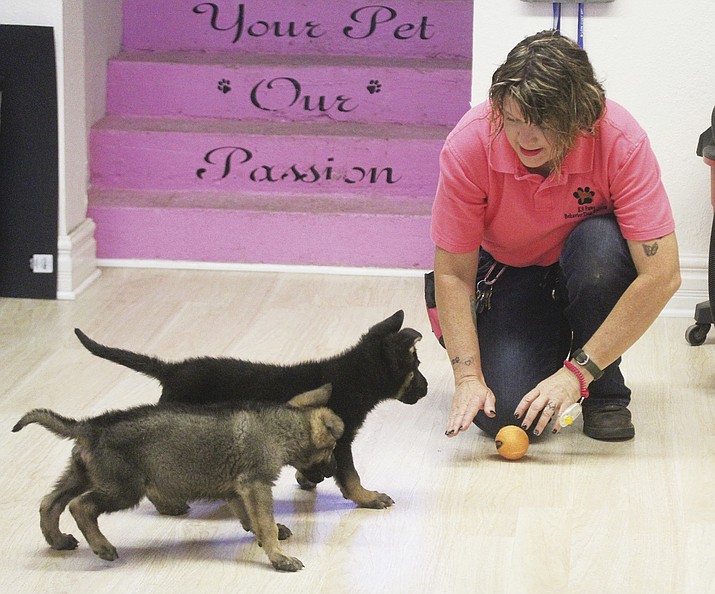 Photo by JC Amberlyn.
Originally Published: July 31, 2016 6:03 a.m.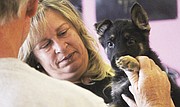 KINGMAN - Several local people are working together to provide service dogs with mobility and PTSD training to individuals who might not otherwise be able to afford it.
Marsha Tonkinson of K9 Paws Behavior Dog Training was at Primp My Pet in downtown Kingman Friday morning to meet with two eight-week-old German shepherd puppies provided by Melody Jacobs. Tonkinson assessed the puppies and assigned them to two different homes. She will be working with those homes for about one to two years to give the service dogs their full training.
Sheila Martin of Veterans Sportsman Alliance is working with them to see that one puppy, Bruno, will go to a veteran Marine who received a Purple Heart and now lives in Yuma, once the pup is trained as a PTSD dog. Bill Henak and his son Bryce were there to meet Bruno, who will live with them as he receives training.
The other puppy, Freedom, will go to Geri Sherlock as a mobility and hearing alert dog. Her current service dog, Tim, is getting old and slowing down.
Jacobs noticed this and encouraged her to consider training a second dog. After speaking to Tonkinson they came up with this plan. Geri said, "This means my life," Sherlock said. "Tim is 10 years old. He has his good days, he has his bad days. Service dogs give me the independence I need. For me to get one as a gift is completely awesome."
She noted that a service dog can cost thousands of dollars.
"I want to give back to my community and help others, pay it forward," Tonkinson said when asked why she donated her training and time.
To help, visit veteranssportsmanalliance.org. Its primary mission is "to get injured and disabled Veterans out of the house and hospital and into the therapeutic surroundings of nature and outdoor adventure." Primp My Pet also offers ways to help. It has a program to donate jackets and sweaters, a dog food bank, and sells local author's Alexandra Livingston's books with 10 percent of the proceeds donated to helping pets in need. Primp My Pet is located at 217 E. Andy Devine Ave. The number is 928-753-PETZ(7389).