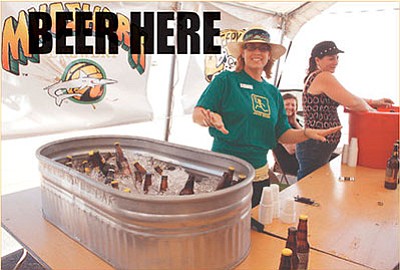 Originally Published: June 3, 2016 6:01 a.m.
KINGMAN - Prepare to cool yourselves this weekend as the 4th Annual Beerfest pours into the Mohave County Fairgrounds Saturday.
The 21 and over only - with valid I.D. - event runs from 4 to 8 p.m.
Presale tickets are $25 and $30 at the event. Presale tickets are available at the Fairgrounds Office at 2600 Fairgrounds Blvd., Black Bridge Brewery at 421 E. Beale St., and House of Hops Tap House at 312 E. Beale St.
Drinkers will receive 15 tickets with admission to taste the beers of their choice in a 5-ounce cup. Additional tickets may be purchased at the event.
There's also a $10 "designated driver" feature that includes all the water and soda one can drink. Taxi cabs will be standing by on site for anyone needing a ride. The Kingman Elks Lodge will be selling hamburgers and bratwurst.
Live music from local rockabilly/surf band The TIKI Bandits will liven up the fest.
"I think the biggest thing for this year is it is the first for live music," said James Guillot, Mohave County Fair Association manager. "We hope it adds new flavor."
Sixteen Breweries from the tri-state area will bring in two to three varieties of beer for sampling.
As popularity grows, so does the crowd.
"Last year we had between 250 to 300 people show up," said Guillot. "This year we're hoping to get up to 400."
Parking is $3 with all parking proceeds going to a charities to be announced.
For more information, call 928-753-2636 or visit www.mcfafairgrounds.org for more information.