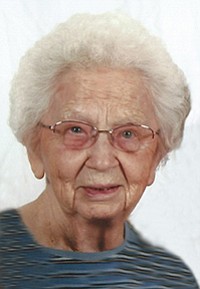 Originally Published: June 3, 2016 6:01 a.m.
Bertha Irene (Miller) Bowers, 95, of Kingman, went to be with her Lord on May 11, 2016, at Kingman Regional Medical Center.
Bertha was born in Ohio to Jeremiah and Nancy Miller on March 18, 1921, as their 13th child. She went to school in a one-room Mennonite schoolhouse in Delaware and graduated from Eastern Mennonite College in 1945. She married Harley Bowers on April 13, 1952. She and Harley moved to Arizona in 1966 with their youngest two children.
Bertha worked hard throughout her life. Her first paying job was ironing for 35 cents an hour to pay her college tuition. Many will remember her from waitressing at Denny's, Calico's and the TA truck stop. Bertha retired from waitressing at the young age of 85. She was a longtime member of the Christian Missionary Alliance Church. She was known around Kingman for her delicious cookies, of which she made 120-180 every Tuesday to give away.
Bertha was preceded in death by her husband, Harley, daughters Carol Sue and Elnora, and three grandchildren. Bertha is survived by Bonnie (Don), Barb (Glen), RuthAnn (Trey), Brenda (Ed), 15 grandchildren, 16 great-grandchildren, one great-great-grandchild, extended family and many friends.
Graveside services will be held at 10 a.m. June 4, 2016, at Mountain View Cemetery. A celebration of her life will be held after the service.
More like this story