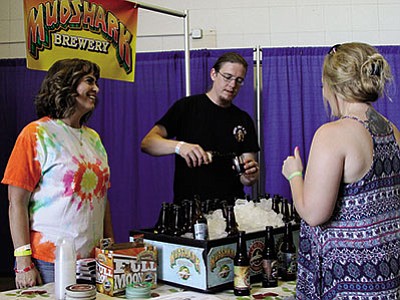 Originally Published: June 5, 2016 6:01 a.m.
The thermometer mercury rose well into triple digits Saturday, not a stumbling block to veterans of Mojave Desert heat.
(Top) The 4th Annual Beer Fest was held at Mohave County Fairgrounds on Saturday afternoon.
People could enjoy a variety of beers brewed both locally and around the tri-state area.
Here, Danielle Sorace and Luke Portugal of Mudshark Brewery out of Lake Havasu City pour a mug of beer for Taylor Wood.
(Bottom) Kingman Regional Medical Center held its annual Kid's Day on Saturday with over 50 vendors and about 500 visitors despite the heat.
Families could come and learn about various subjects related to children and their health and wellbeing.
Here, Canon Oliverson, 3, enjoys the view from behind the wheel of a (parked) Kingman Fire Department apparatus.
The next KRMC event open to the public will be the Men's Fair from 4 to 7 p.m. July 13.