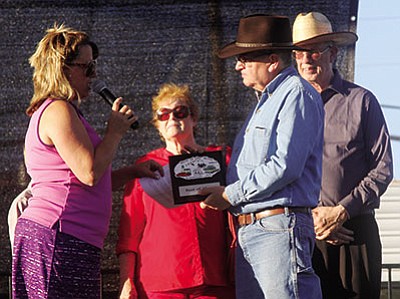 Originally Published: June 8, 2016 6 a.m.
KINGMAN - Jim Hinckley will undoubtedly sample German brats and beer when he visits the country next month, but make no mistake: This is a business trip for the Kingman resident and author of a number of books about Route 66.
"I've been brushing up on my German," said Hinckley, who plans on keeping a journal of his trip. He said he would send the Miner photos and possibly even a video.
"This is a tremendous opportunity to bring people to Kingman," he said. "The American Southwest in general, and in particular Route 66, are very popular with Europeans and others throughout the world. It is consistently rated a top five, non-theme-park destination. It's for people who are into the culture."
And freedom.
Hinckley recounted a recent experience on what the iconic highway means to Europeans, and why people living thousands of miles away are drawn here more than are Americans.
"I saw a Czech woman walking downtown last week," said Hinckley. "She was walking around Kingman looking for a brick in the pavement."
Not just any brick, but one of the bricks placed downtown with the names of Mother Road boosters etched on them.
Hinckley said Route 66 is a symbol for people like the woman from Czechoslovakia, who grew up in a totalitarian country, a former Soviet satellite country before the wall came down.
"They see it as freedom. The freedom to go where you please, without worry," said Hinckley.
And while many communities that lie along the more than 2,450-mile loop that connects Los Angeles to Chicago claim to be The Heart of Route 66, Kingman, said Hinckley, might have the most right to do so simply because it is the largest city connected to the longest part of the highway still in service.
Clearly, Hinckley is Kingman's ace on all things Route 66. He has written books about the iconic highway. He will share his expertise in Germany, where he's scheduled to give a number of talks to the Route 66 associations of numerous countries, and he has been asked to speak to students at a school near Stuttgart.
"It's not just the highway," he said. "We have a downtown that has made a tremendous rebound in just a few short years. We have Grand Canyon Caverns and Grand Canyon West is huge. All of this is going to bring tourists and tourist dollars to Kingman."
With that thought in mind, Hinckley said he would like to see the city tie together tourism and economic development. "Not all economic development is tourism," he reasons, "but all tourism is economic development."
The hoped-for remodeling and reopening of the historic Beale Hotel would work wonders for tourism in Kingman, said Hinckley.
While the city will reimburse Hinckley for his expenses to the tune of about $2,500 for the 12 days he's overseas due to the work he will do there on behalf of Kingman, he intends to convince the Germans and other Europeans he meets to not only travel Route 66 but travel to Kingman as well.
"All the parts are here," he said. "The brewery, the wine cellar, the House of Hops, downtown's historic buildings, all that is being renovated ... Kingman is at a crossroads between our past and our future."