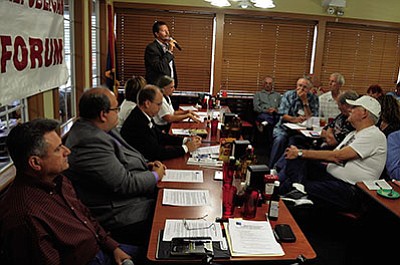 Originally Published: June 10, 2016 5:45 a.m.
KINGMAN - Plenty of colorful, meaty comments rolled off the tongues of political hopefuls Wednesday evening.
Six Republican state legislative candidates faced off against each other in the packed meeting room of the Golden Corral restaurant during the June Mohave Republican Forum.
Questions regarding illegal immigration, education, the economy, water, gun rights and abortion got tossed like hot potatoes and the candidates swiftly swatted them back.
Arizona District 5 House of Representatives incumbent Regina Cobb held her own against retired pet groomer and publisher Jennifer Jones from Quartzite; Sam Medrano, news reporter and former Bullhead City Councilman; and Paul Mosely, Lake Havasu City financial advisor and businessman.
Her three challengers are also clawing for Sonny Borrelli's open house seat as he makes a charge for an Arizona State Senate title against former four-term state senator and Lake Havasu businessman Ron Gould. They are vying for the seat Kelli Ward left when she joined the race for U.S. Senate.
There were mostly yelps of "amen" and "yep, uh-huh," as the audience was relatively civil with the exception of a few groans over illegal aliens and Roe vs. Wade.
Legislative District 5 covers most of Mohave County and all of La Paz County.
Illegal immigration
Candidates were asked if they'd sponsor or support legislation that would require students enrolling in school to provide evidence of citizenship or right to legally be in the country.
"The 14th Amendment was meant to give rights to former slaves, not illegals to have anchor babies," Gould firmly stated.
He sponsored a bill in 2011 to create Arizona citizenship requiring one parent to be a U.S. citizen before a birth certificate be issued.
"If they were born without that, their birth certificate would say 'non-citizen'."
"I wouldn't sponsor any bill until I've read the whole thing," Jones said.
Jones likened illegals to cats prowling a neighborhood for scraps of food.
"I had a Siamese tomcat once and he figured out he could go over, under or through my fence anytime he wanted. Inevitably I would always find him at the little old ladies' house down the street who fed all the cats. He knew where the tuna was. It's my goal as a legislator is to make sure Arizona is not offering tuna to the tomcats.
"If you provide benefits to people who are in this country illegally, they will come here."
Medrano, himself a Hispanic, made clear he's not bowing down to his own people.
"We can't change 'illegal immigration' to 'undocumented worker' because it sounds better. We have to call it what it is; it's illegal," he vowed. "If the first thing you do when you come to the U.S. is illegal, I don't want you here."
Education
Candidates were asked what they'd do to improve public education.
"The first legislation I would sponsor would be to get rid of Common Core and get it out of Arizona schools," Jones said as she was met by rabid applause. "I don't think you can improve public education when it's coming from bureaucrats in Washington D.C."
"I believe the parents understand the needs of their children better than the bureau-crats," Mosley said. "Competition in education is good as far as district, charter, private and home schools."
Cobb fervently wanted accountability of funds from Joint Technical Education District (JTED) and Proposition 123.
"What is the money being spent on and is it being spent the right way? I want accountability as where the spending is going to and how it's getting to the classrooms."
Economy and unemployment
Medrano stressed the need to continue bringing high paying jobs to the county and the state. He mentioned an Intel Corporation software facility (which laid off 560 employees in April) in Chandler that brought jobs to the state.
"Those are high paying jobs and high paying jobs create high disposable income. When people have high disposable income, they go on vacation and we want them to go on vacation in Lake Havasu City, Kingman and Bullhead City. Not just here locally, but all over the state of Arizona."
"De-reg, de-reg, de-reg," chanted Borrelli. "The little things take care of the big things.
"The best thing the government can do to create jobs is get out of the way," Gould said. "Consumers will regulate business."
Water
There was no shortage of excitement as the candidates discussed preserving one of the county's most precious resources - water.
Almost all the candidates mentioned displeasure with the complexities of water laws and regulations.
"Whiskey's for drinking and water is for fighting over," Borrelli quipped. "The problem with water is it's so regulated. It takes a room full of lawyers just to figure something out. It's a difficult issue to deal with."
"You have these companies that look at rural Arizona and think 'We can take it, they won't care'," Medrano said. "That's not how it needs to be looked at No. 1, and number two, you have to have someone willing to fight. I guarantee you I'm one of those people willing to fight."
A verbal swordfight erupted between Borrelli and Gould.
"I would not support any legislation that would dissolve the Mohave County Water Authority," stated Borrelli. "My opponent over there (Gould), he tried to write a bill to dissolve the water authority."
Gould parried.
"I'm not going to use my time to talk about why we should get rid of the water authority, but since all the water they control is now sold, they really don't need to exist," he said. "Government agencies that have done their job should be done away with."
Guns and life
Possibly the most lively and tooth-gritting portion of the forum came when candidates were asked about protecting the 2nd Amendment and right to life for the unborn.
"I fully support the idea that if the federal government comes to take our guns, as a state we should stand against that," said Mosley.
"The real question you should be asking is if you would sponsor a bill to outlaw abortion today," Gould asked. "I would vote for a total ban on abortion. If you don't want to be pregnant, then there's things you can do to prevent that."
"I don't care who's in the bathroom stall next to me because I carry," Jones said as she went on to include other situations in which she packs heat. "I don't care who is knocking at the door. I carry. I have dogs. They give me time to take the safety off because I carry."
"'Shall not be infringed'. It's just a couple of words. I have no idea why some people can't seem to understand that. Shall-not-be-in-fringed."
"I am 100 percent pro-life," Mosley affirmed. "There's nothing more important in this life than family, and the relationship that a husband and wife has and the ability they have to create life, which is a joint partnership with the almighty God."
The Greatest
Finally the candidates got to beat their own chests.
"I'm running for office not for myself, but for you," Medrano said. "There's a lot of things that go on down in Phoenix that affect your life up here that you don't know about. You have to have people down there to fight for you."
"I'm not even worried whether or not I get elected," admitted Jones. "That's up to you. I'm retired. I have 100 percent of my life to dedicate to this job if that's what you want me to do."
"What you won't see me do is running strange lobbyist-driven bills," said former senator Gould. "I'm not a patsy and I don't spend all my time going to lunch with lobbyists. I work for you, not for lobbyists."
"I am not your leader. You are my leaders," Borrelli affirmed. "You tell me what needs to get done and I'll try to get it done."
Voters will have the chance to weed the candidates out August 30th.
Voters have one more chance to secure membership in the forum in order to vote for the endorsement of Republican candidates in the upcoming elections. That chance will be a the next Mohave Republican Forum meeting is July 13 at Golden Corral.