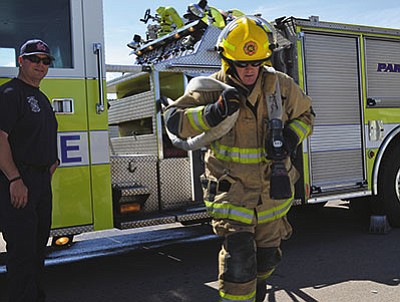 Originally Published: June 12, 2016 6 a.m.
KINGMAN - Learning what the inside of an oven feels like takes more than spending a day in Laughlin at the beginning of June.
I recently had the opportunity to gear up with the Kingman Fire Department and when I say gear up, I mean put on the suit and wear it - literally. This wasn't just some show up and shoot fluff-piece story. This was a chance to lose a few pounds and crawl around with the experts themselves.
After the May 5 article featuring the Paid-On-Call (POC)Academy, Assistant Fire Chief Keith Eaton called and asked if I wanted to get myself into the real action the for the second half of the Academy May 11.
My superiors at the Miner were wary of me getting myself into a potentially hazardous situation, but after reassuring them that at no point would I be put on a live fire call, they gave me four thumbs up. Like a dog let off the leash, I was off.
This was the first time the department would let a reporter suit up in the full set of Personal Protective Equipment (PPE) and jump into the fire with the firefighters themselves.
The original plan was to be able to hang out for a few shifts and piece together a "Day in the Life of ..." feature. We ended up with a picture of the rigors the KFD goes through to ensure the safety of our citizens.
Past experience
A quick bit of history to explain why I did this and how I was able to hang with the pros who would test my resilience to demanding situations.
With nearly 18 years of military service between the Navy and Army National Guard, I'm no stranger to getting myself into grueling and dangerous encounters.
During my service in the Navy aboard a guided missile frigate, every sailor's secondary job -regardless of rate - was firefighter. There's no 911 in the middle of the Atlantic Ocean.
The crew regularly performed fire drills - but not the run outside to the parking lot kind. Instead, it was the put on a mask and grab a hose kind - both at sea and in port. We had similar types of PPE I described in the May article. We had the signature yellow turn-out gear but instead of the modern Self Contained Breathing Apparatus (SCBA), we used the bulkier Oxygen Breathing Apparatus (OBA). If you had to strap the OBA on and you were fat, forget about getting through a hatch.
My Army deployments to Iraq (as an infantryman) and Afghanistan (as a military journalist) gave me the mental strength to slug through the hottest, back-breaking, knee-scraping, air-gasping activities of the day. Both branches and numerous wartime and stateside missions provided opportunities to bog myself down with heavy loads of mission essential gear strapped to my body.
I was positive that I was physically and mentally ready for training. I'd let curiosity take care of the rest.
Fit tests and equipment
The day before the training, I paid a visit the department administrative offices downtown to be test fitted for turn-out gear - the helmet, jacket, pants, boots and gloves. With the exception of gloves, everything fit fine.
Just as with military gear, firefighter uniforms have to be fitted for both safety and functionality. An improperly sized helmet will fall in your face at the wrong time or squeeze your head to the point of headaches.
Loose pants fall down, tight or loose gloves cause unsafe grips and the wrong boots will cause blisters.
I was set with turnout gear and off to Station 2 to be fitted for a SCBA facemask. These tests were very precise as I had to perform a series of tests to ensure a proper seal to prevent smoke or toxins from entering the mask or letting air escape. Either could mean injury or death in a training or real-life scenario.
If I recorded these tests on video and sped them up for hilarity, the shaking, nodding and bending over would look like a classic freakout or temper tantrum. The rapid movements and stale seconds of facing the ground were tests to verify that any sort of vigorous activity - or even gravity - wouldn't affect the seal.
KFD does fit testing for their firefighters every year and sometimes after major fire calls.
Time to party
I showed up at Station 2 around 8 a.m. ready to sweat. The day was a bit cooler than the first session of POC Academy a week earlier, but temps were still pushing in the 80s.
Most of the department chiefs and upper administrators were doing their annual physical fitness test that consisted of fire drills through an obstacle course while decked out in full firefighting regalia.
The morning started with inspections of 60 pounds of turn-out gear and SCBA. About the same weight as a six year-old kid or a young Labrador retriever
For comparison, my Afghanistan deployment basic army combat load - full 'battle-rattle' - consisted of the basic camouflage uniform, Army Combat Helmet (3 pounds), Improved Outer Tactical Vest (IOTV) - otherwise known as body armor - with protective ceramic chest, back and side plates (roughly 30 pounds), M-4 carbine rifle with 30-round magazine (7.5 lbs.) with six additional 30-round magazines (about one pound each), an M-9 pistol, and of course my Panasonic HD video camera or Nikon DSLR with various lenses.
I never left the wire without my assault pack filled with food, extra bottled water, change of clothes (depending on the mission), plus extra batteries and memory cards and the highly important 100 ounce/3 liter hydration system (Camelbak).
I was toting anywhere from 60-70 pounds depending on how much stuff I carried in the assault pack. The Army set-up gave a person more room to move and breath. The turn-out gear wouldn't quite afford those luxuries.
No picture taking for me. I was a guest.
KFD Fire Prevention Specialist Mac Nelson would be the photographer. None of my cameras are equipped to handle 400 to 1000 degree heat. My brain would take notes and mental pictures.
The easy parts
The first couple exercises were relatively painless. We didn't have to sweat too hard and the steps were relatively elementary.
Along with myself, Battalion Chief Chris Angermuller and Firefighter Brandon Medlin - among other senior firefighters - and the part-time firefighters from the previous week; Alex Gabler, Justin Ramos and Jonathan Ufers, and full-time fire prevention specialist Sean Osterman; geared up in the trademark yellow turn-outs and got ready to rough and tumble.
During the first two exercises we would take turns developing muscle memory for starting an initial attack on a fire from the moment a team arrives on the scene.
Part 1: Pull a 6-inch wide hose from the back of a firetruck and attach it to a hydrant. In reality, once the truck is on scene, that hose would be the umbilical hose channeling water from the city hydrants, through the truck and to the smaller attack hoses. A firetruck would pull up to a hydrant, attach the larger hose, and move to a better attack position near the scene of the fire.
Part 2: Unreel 150 or 200 foot firehoses, dash about 50 meters perpendicular to the truck and stand by to storm a building. This is the B-roll you see on TV. The firefighters yank the hoses off the truck in preparation for dousing the blaze.
We do this to see how it feels with all gear on. Then we put the hoses back.
"We get on scene and deploy hoses and put the fire out, but we have to get the truck back in service for the next call," Angermuller clarified. "We want to get on scene and get the job done as soon and safely as possible in the most efficient manner to decrease property loss."
Now that the warm up was over, it was time to get warmed up. We would do another turn-out gear inspection and prepare to don the SCBA for a crawl through The Smokehouse.
Tomorrow: Into the Smokehouse