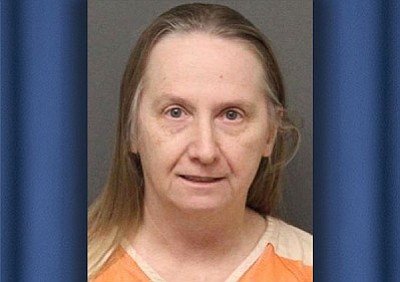 Originally Published: June 13, 2016 6 a.m.
KINGMAN - Chief Deputy Attorney Jace Zack has prosecuted a number of people who have stolen from Social Security over his lengthy career in Mohave County, but he said none of them ever stole as much as Mary Elizabeth Killen did - and none of them ever chopped up a body and buried it in their backyard in order to get away with it.
Killen on Friday was sentenced to four and a half years in prison for stealing the monthly benefit payment of William Felder, whose dismembered body Killen buried in the backyard of her Lass Avenue home in 2010. There is no evidence Killen murdered Felder or otherwise caused his death. The man had a history of overdoses and suicide attempts.
She was told she would not be charged with abandonment of a dead body or transporting or mutilating a dead body if she told law enforcement where Felder's body was. She did, the body was recovered, and the state kept its word.
'Ghastly, ghoulish'
Killen earlier this spring pleaded guilty to spending Felder's monthly Social Security payment, which was deposited in a bank account the pair shared and Killen continued to have access to after his death.
"Ghastly and ghoulish" is how Zack described her actions, saying most people who steal from Social Security do so "passively." Normally, funeral homes or hospitals send death notices out, but sometimes they fail to do so. People with access to the decedent's check continue to cash them.
But they don't actively go out of their way to keep the Social Security Administration of learning about a death. They don't chop up bodies and bury them and they don't tell investigators that the person they're looking for is living in Mexico.
That's what Killen said he did when Social Security investigators knocked on her door looking for Felder. The administration locked onto Felder after checking for beneficiaries who had not been to a doctor, whether through Medicare or the VA, in a number of years.
Killen, realizing she was under investigation, fled Kingman for San Diego, where she was arrested Dec. 28. She had collected more than $56,600 over the four and a half years.
Judge Steven Conn said he found Killen's actions horribly wrong. While chopping up a human body was undoubtedly at the top of that list, the judge was upset Killen had Felder's dog put down soon after he died.
Felder lived in Mohave Valley and Killen, after cutting up his body so she could move it, drove to her home in Kingman and buried him in the back yard.
While Zack said the Mohave County Medical Examiner is going to list the cause of death as an overdose of OxyContin, both he and Conn made it clear to Killen that she could face murder charges if evidence comes up that indicates she had a role in his death.
The evidence that currently exists suggests Felder was depressed. His family said he could be a difficult man to be around. He was taken to the hospital for an overdose two weeks before he died.
He told doctors he sometimes forgets he took a pill and takes another. Doctors also diagnosed him with depression.
Conn ordered Felder to reimburse Social Security for the total amount she stole. Her Lass Street property is valued at between $5,000 and $10,000.
It is unknown if Killen will be eligible for Social Security benefits when she reaches the required age to collect.