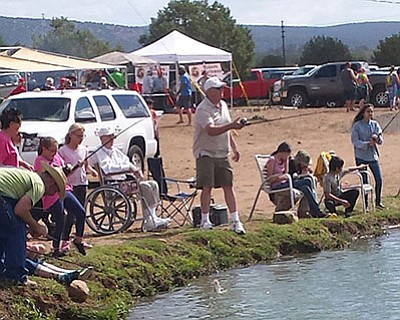 Originally Published: June 14, 2016 6 a.m.
KINGMAN - It was a day filled with little voices screaming "I got one!" or "Help me daddy, I got a big one!"
That was the scene at Dunton Pond, which is located just off I-40 about 40 miles east of Kingman on Saturday morning for the annual Fishing For Smiles program.
The annual free fishing event, which is designed to recruit and retain young people between the ages of 5-16 years old into the time honored sport of fishing, was co-sponsored by the Mohave Sportsman Club, Kingman Elks Lodge #468 and the Arizona Game & Fish Department.
Other sponsors included Kingman Regional Medical Center and the family of Dick Hendrix. Major funding for the event came from the Arizona Sportsmen for Wildlife Conservation.
Kids lined up around the banks of the pond, which has been graciously donated by the Dunton family for many years. Hungry channel catfish had been stocked in the half-acre pond earlier in the week.
Members of the sponsor groups and other volunteers worked around the pond, assisting young anglers and their parents with issues such as tangled lines and lost hooks. No matter what the duties were, the volunteers handled them quickly and efficiently.
Trophies were handed out this year courtesy of the Hendrix family and the Mohave Sportsman Club.
Winner in the Junior Division was Austin Wright, who not only had the Big Fish in that division that weighed 4.5 pounds, he also took the honors for the third heaviest stringer. His three fish limit weighed 7.85 pounds.
Jason Hoffman had the big stringer for the Juniors Division, a three fish limit that weighed 9.5 pounds. Second place was won by Jacob Ladendecker, whose stringer weighed 9 pounds.
In the Senior Division it was Lucas Ladendecker who won with a 22-pound stringer.
The heaviest stringer was brought in by Cleveland Powskey. The next best was brought in by Elisa Edwards and third place went to Dana Edwards.
For many parents, it was the first time they had spent a day fishing with their children, and they seemed to enjoy it. Members of the Arizona Game & Fish Department (Region 3) were on hand to pass out loaner rods and reels. They also furnished bait, but several of the kids were seen using bait that their parents had brought.
There were other things to do besides fishing at this event. The Bureau of Land Management, represented by wildlife biologist Rebecca Peck, once again brought out a display of wild animals that included snakes, a desert tortoise named "Pokey" and birds of prey. This exhibit is always a hit with the kids as for many it is the first time in seeing these animals.
After fishing, all the participants were treated to a free lunch of hot dogs, hamburgers, chips, and water or soft drinks that were expertly prepared by members of the Kingman Elks lodge. If you left hungry, it was your own fault.
In the end, it was a perfect day for the young anglers and their parents. Memories were made that will last a lifetime with time spent together that created bonds between parents and their children.
Kingman is fortunate to have groups such as the MSC, Kingman Elks Lodge #468, KRMC Foundation and the Arizona Game & Fish Department - along with the Dunton family who deeply cares about their community - that unselfishly volunteer their time and money to hold this event.