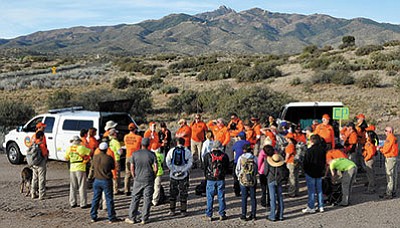 Originally Published: June 16, 2016 6 a.m.
KINGMAN - It's the not knowing that rubs raw the nerves of Chris Cranston. The unfinished business of the dead haunts the hours he spends awake, which, these days, is most hours in the day.
Today, exactly one year has passed since his brother Sid went missing from the streets of Kingman. Chris long ago accepted Sid likely met a bad end, the worst end. Nowadays, he just wants to bring Sid home so he can sleep through the night again.
He's grateful the FBI has recently come to lend a hand.
"I know it sounds strange, but I hope we do find his body. I don't want to wait another year not knowing," said Chris, a North Carolina flooring contractor who has been an active participant in two searches - one for Sid's body, the other for his possible killer.
Chris has spoken of the anger and frustration he has experienced over the past 365 days, but he is optimistic now, with the FBI on the case.
Special Agent Desirae Tolhurst said the bureau is "actively investigating" the strange disappearance of Sid Cranston Jr.
The vanishing
It was about noon last June 16 when the then-40-year-old real estate agent and civil engineer - and the owner of more than 40 properties he sold or rented in the region - vanished without a trace.
He was last seen at Interstate 40 and Stockton Hill Road, one of the busiest intersections on Kingman's busiest street. Sid was going to discuss real estate with someone, but he never made it there.
The Kingman Police Department remains on the case, said Tolhurst, and the Mohave County Sheriff's office also has a role to play.
"Obviously, it's suspicious," Tolhurst said of Cranston's disappearance. People who want to get lost usually can, and it's perfectly legal to do so, but such people normally don't have a successful business life, a blossoming love life, and close family and friends to keep them tethered to a community.
Cranston's property manager was considered a suspect but an illness has supposedly rendered him too sick to talk.
A private detective offered to help. A ping off of Sid's cell phone led searchers to the Hualapai Mountains and elsewhere in the area. Hunters and hikers heeded pleas to look out for Sid's remains on the trail. A television crime show did a piece on the story and national websites covered it as well.
Sid deserves better
It didn't take long for Chris to realize his brother was dead. And he soon realized there are a billion places to bury a body in the Mojave Desert.
Since then, he's been consumed with bringing his only brother home.
Now, with the FBI involved, Chris has renewed hope. It's the kind of hope that is borne of desperation, perhaps, but Chris needs his brother's remains found.
"The thought of him out there, in the dark, nobody knowing where he is, it gets to me, man," said Chris. "He deserves better. We deserve better. Nobody should have to go through this."
A family's tragedy
If for no other reason, Chris would like his brother's remains located for the sake of his elderly father, who has been stoic in the face of unbelievable grief.
"He knows," said Chris. "He knows. Dad's amazing. He hides his grief so we don't see it, so he can spare us. He needs closure. We all need closure."
The family is not alone in its belief Sid is gone.
"We have reason to believe he is deceased," said Tolhurst. "But we don't have a body. Based on our investigation we don't believe he just left town."
"They're not going to find him drinking at a bar in Tahiti," added Chris.
The KPD also considers Sid to be a homicide victim - until that hypothesis is disproved.
"The Kingman Police Department is committed to this investigation and finding Sidney Cranston Jr.," said Deputy Police Chief Rusty Cooper. "Until the cause of his disappearance can be determined, the investigation is being treated as a homicide. This investigation has been a high priority and we are determined to solve his disappearance and bring to justice those who may be responsible."
Tolhurst did not provide much in the way of details, but the case is not entirely cold.
"No names, but we do have persons of interest," said the special agent.
$16,500 in rewards offered
Shortly after his brother vanished, Chris Cranston offered a $10,000 reward for information leading to Sid Cranston Jr.'s remains and/or a conviction of anyone involved in his death. That reward offer still stands.
FBI Special Agent Desirae Tolhurst said the bureau is offering a $5,000 reward for information that reveals where Sid's body is, and Kingman Police Department spokeswoman Jennifer Sochocki said Silent Witness has put up $1,500.
Those with information can contact the FBI at the bureau's Phoenix field office, 623-466-1999. KPD can be contacted at 928-753-2191 or online at www.kingmanpolice.com.Silent Witness is at 928-753-1234, and the KPD app can be downloaded at the App Store by searching Kingman Police Department.
Another mysterious Kingman disappearance
The mysterious disappearance of Sid Cranston Jr. is not the only high-profile missing person case with a June connection.
One year ago this month, Nancy Hartz left Kingman with a man law enforcement would later identify as Robert Lawson Carnochan, an undocumented immigrant from Canada who was arrested in April on identity theft and forgery charges.
Hartz has not been heard from since she abruptly sold her home for $50,000 cash and left with Carnochan, whom she met on an online dating site.
The Mohave County Sheriff's office has connected him to two other missing women he met online, but for now, he only faces the identity theft and forgery charges.
The trail has grown cold and "all leads have been exhausted," said sheriff's spokeswoman Trish Carter. Carter said anyone with information is asked to call a special MCSO hotline at 928-753-0755.
Related Stories