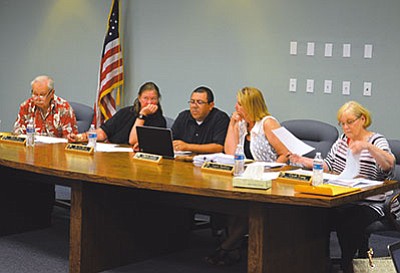 Originally Published: June 19, 2016 5:59 a.m.
KINGMAN - More money for schools is almost here, but where it's going is still in the works.
$1.3 million will begin flowing into the Kingman Unified School District soon and the KUSD Governing Board got a peek at where it could go Tuesday. Pay raises, buildings, technology, vehicle upgrades, and extracurricular activities are some of the areas that may get a boost from Prop 123 cash.
As far as pay increases go, the board is still in the process of making decisions on who gets how much and where.
"A 3 percent pay increase for all employees has been discussed with the board but that amount is not final, nor is it final on how it would be distributed to the employees," said KUSD Superintendent Roger Jacks. "I believe the board will make that decision by the end of next week."
Building improvements would include the addition of security cameras, replacing bell systems in several schools, upgrades and additions to technology in all of the schools and putting a new roof on the high school alternative school.
Another goal is the replacement of up to 10 buses in the district's yellow fleet this year by purchasing used buses from the Phoenix area.
Jacks also wants to keep sports and the arts rolling without having to charge parents.
"We believe in educating the whole child and that means including the importance of funding the arts, school activities, and sports in our schools," he said. "Where many school districts have gone to significantly charging students to participate in sports and activities, we have not adopted a 'pay to play' policy. We are trying to find more funding for these programs to shore up areas that need more financial assistance."
The community can help out by taking advantage of a tax credit program offered by the state. Individuals can give up to $200 a year and couples $400 to schools and then receive a tax credit from Arizona.
"Everyone wins with that program," Jacks said. "We have families and individuals who do use the program every year but we could certainly use many more."
A final overall budget decision is slated for the next governing board meeting July 12.