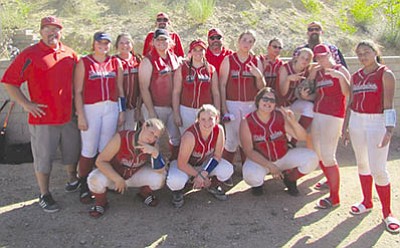 Originally Published: June 23, 2016 6:02 a.m.
KINGMAN - Players from four high schools represented the Kingman Sidewinders 16-and-under softball team at the Beat the Heat Invitational last Friday and Saturday in Prescott. Kingman went 2-3, dropping its last two games.
The Sidewinders consisted of players from Kingman, Kingman Academy, Lake Havasu, and Lee Williams high schools.
The Sidewinders opened the tournament with a 7-5 win over the Tucson Juggernauts. Kingman Academy's Jillian Winters went 2-for-3 with a double and a triple, scored two runs and drove in two. Lee Williams' Becky LeClair went 3-for-4 with a double and three runs batted in. Her double came in the sixth inning and drove in the winning run.
Kingman's Jordyn Dan hit two singles and scored twice. Kingman Academy's Jessica Plew earned the win in the circle. She pitched six innings and gave up two earned runs on five hits and no walks. She struck out six.
Kingman suffered its first loss to the eventual tournament champions, Verde Valley Heat, 12-0. Kingman's Natalie Borgens and Plew each singled in the loss.
The third game of the tournament was the start of the double-elimination championship bracket, and Kingman improved to 2-1 with a win over the Prescott Lady Hawks, 13-8.
Kingman Academy's Cassidy Hobbs went 3-for-4 with a double, two RBIs and three runs. LeClair had two hits, one a double, and scored a run. Dan had two singles, and Kingman's Ariana McKowan had a pinch-hit single for two RBIs in the fourth that gave the Sidewinders the lead for good, 9-8.
Plew earned the win. She pitched seven innings and gave up six earned runs on nine hits and no walks. She struck out five.
Kingman was knocked out of the championship bracket and into the consolation bracket in a 15-0 loss to the Arizona Desert Kaos. Winters and Hobbs each singled, and Lake Havasu's Morgan Canaday pitched two innings of relief, surrendering three earned runs.
The tournament ended for the Sidewinders when they were eliminated by the Bullhead City Insanity, 11-2. LeClair went 3-for-3 with a double, an RBI and a run scored. Lee Williams' Chelsea Heitman singled and drove in one, and Canaday had a single. Canaday again appeared in the circle in relief, this time giving up two earned runs on five hits and one walk over four innings. She struck out two.
LeClair was the Sidewinders' MVP of the tournament. She went 8-for-16 with three doubles and seven RBIs, and scored three runs. She had seven putouts and two assists in center field.
Cassidy Hobbs had a big tournament, going 7-for-16 with a double and three RBIs.
Jillian Winters had 45 putouts and two assists at first base with only one error. Plew pitched 16 of the Sidewinders' 26 innings.