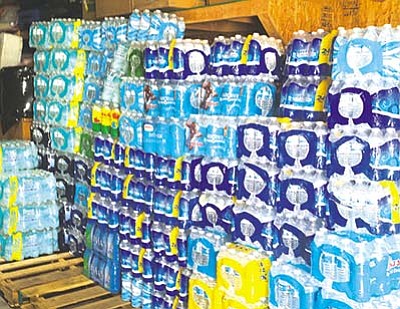 Originally Published: June 27, 2016 6 a.m.
Thank you Kingman!
We have been overwhelmed by the "outpouring" of water donations and yes we are "full"! Cornerstone Mission has been in Kingman for just over 13 years now and our community has embraced us from the start. Thank you for your kindness to the homeless and people in need. Kingman is a great place full of wonderful people who care. You not only blessed those of us who work and volunteer at Cornerstone and Diana's Faith House, but the residents who stay with us as well, and our walk-ins.
Quote from Melanie Windecker, Administrator, "I was so blessed to witness the support of the community. I have watched water deliveries all day. All the residents helped unload water from cars and load on the pallets. It was amazing to see their faces. They were all polite, grateful, and I witnessed joy in them. It was awesome for them to see the compassion and love from our community."
In less than two days we received approximately 10 pallets of water from individuals, businesses and organizations. We also received calls all day long offering water or monetary donations for water. The donations were coming in so fast, we did not get names of all of those who donated, so we want to thank all of you who brought us bottled water and the Kingman Daily Miner for running the article and posting the need on Facebook. It makes giving out the water convenient and simple. Thank you for making it possible to give this water to those who are homeless and in need. Thank you for thinking of others. God bless you.
Lisa Beauchamp
Executive Director
Cornerstone Mission
3049 Sycamore Ave.