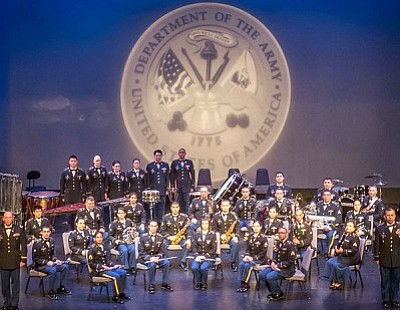 Originally Published: June 28, 2016 10:03 a.m.
KINGMAN - The 300th Army Band, a 40-member instrumental ensemble that serves the Southwest and travels coast to coast, will perform in the Kingman Middle School gym, 1969 Detroit Ave., at 7 p.m. July 11.
The event, which is free and open to the public, is sponsored by Sounds of Kingman and Kingman Middle School.
The band performs at military ceremonies, school assemblies, education outreach, festivals, radio and television appearances, and concerts such as the one planned for Kingman.
The primary mission of all Army bands is to foster the support of the American people for the armed forces, tell the Army story through music, support diplomatic and humanitarian efforts, and to inspire soldiers.
The 300th Army Band will perform marches, classical band material, overtures, popular music, patriotic selections, and instrumental and vocal solos.
In recent years, the band has supported operations at Ft. Carson, Colo., Ft. Campbell, Ky., Ft. Sam Houston, Texas, and Ft. Riley, Kan.
Recent highlights include performances for the Arizona Diamondbacks, Los Angeles Dodgers and music festivals and concert halls across the nation.
Sounds of Kingman has also scheduled the Navy Cruisers performance musicians for an event in August.
More like this story